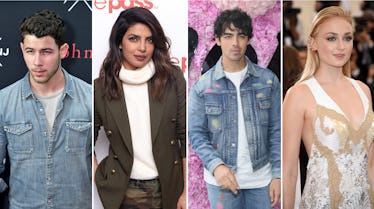 Nick Jonas & Priyanka Chopra Went On The Cutest Double Date With Joe & Sophie Turner
Michael Loccisano / Daniel Boczarski / Pascal Le Segretain / Dimitrios Kambouris - Getty Images Entertainment/Getty Images
Ain't no party like a Jonas Brother party. That's what I always say. Nick and Joe Jonas and their fiancées, Priyanka Chopra and Sophie Turner, attended the 2018 US Open in New York and took a glorious selfie together that fans are swooning hard over. Something about celebrities hanging out like regular in-laws is both hilarious and heartwarming. The photo of Nick Jonas, Priyanka Chopra, Joe Jonas, and Sophie Turner's double date isn't anything particularly special to look at per se. It just makes me feel good inside to see these four palling around like they're normal humans enjoying a beer and really, really good seats (probably).
Chopra posted the photo on Instagram right around midnight EST on Sept. 4. The US Open matches are known to run that late into the evening, so it's totally possible this was a rare "in real time" post. It looks like Turner took the selfie based on her position in the foreground, which can ONLY mean she and Chopra have each other's phone numbers and were able to share the picture. (I know I'm fangirling hard here, but isn't it fun to imagine these two ladies texting behind their respective Jonas fiancés' backs?!)
Chopra captioned the photo: "It's a #famjam at the #usopen 💋🎉❤️ @nickjonas @sophiet @joejonas @madhumalati"
You can catch Chopra's mother, Madhu, featured in the second photo in the gallery.
We know Chopra runs in the same social circle as tennis star Serena Williams thanks to their mutual connection to the Duke and Duchess of Sussex, Prince Harry and Meghan Markle. Based on rumors, double-dating is kind of Chopra and Jonas' thing, and they were reportedly hanging out with Harry and Meghan not too long ago, too.
It makes a girl wonder — what do I have to do to get in on a game night with these two?
Joe Jonas and Sophie Turner have been engaged since October 2017 and seem to have no solid wedding plans, yet. As for Nick and Priyanka, their romance is clearly moving much faster. After only a few months of dating, Nick popped the question and shortly thereafter Priyanka's family hosted a roka (a traditional Indian ceremony that marks the union of the future bride and groom's families). Still, Priyanka's mother, Madhu, told DNA India they aren't in a rush to walk down the aisle.
"They haven't decided on a wedding date yet," Madhu said. "It's too soon. These are just baseless rumors. Both of them have work commitments right now which they need to finish. They will take some time to decide where they want it and when they want it."
Ugh, fine. Just a couple of quick questions for the room: Does this mean Sophie will be one of Priyanka's bridesmaids? Will Joe or Kevin Jonas be Nick's best man? Speaking of Kevin Jonas, where IS Kevin Jonas? Will Prince Harry be at the wedding? Am I invited? Can I come to the next group date if I promise to bring snacks?
Call me, guys.