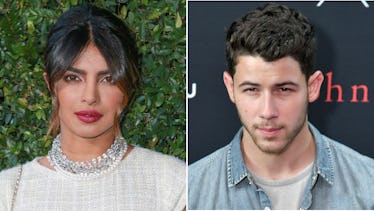 Priyanka Chopra's Mom Can't Stop Gushing About How Awesome Nick Jonas Is
Rich Fury & Michael Loccisano/Getty Images Entertainment/Getty Images
You know what they say: happy mother-in-law, happy life. It'd be understandable if Nick Jonas' and Priyanka Chopra's families were a little taken aback by how quickly they got engaged, but based on a new interview with Chopra's mother, Madhu, it's nothing but smooth sailing for now. Fans are still playing catch up to get on board the engagement ship, but Madhu seems to be driving the ship. She recently participated in an interview with DNA India in which she discussed her daughter's fiancé and her hopes for their wedding. Based on Priyanka Chopra's mom's comments about Nick Jonas, it looks like he's already part of the family.
Madhu explained it was important to her to meet Jonas' family and have a roka. A roka is a traditional Indian ceremony that occurs before an Indian wedding and marks the union of the bride and groom's families. During this time, both Jonas' mother and father were able to meet Madhu. "I told her that I want to meet Nick's family," Madhu said. "It was a new thing for him and he took it seriously. He followed what our panditji [Hindu scholar or priest] said, and chanted the Sanskrit mantras accurately. Both he and his parents did it beautifully. They are nice people."
Madhu also spoke about the faith she has in her daughter to make the right decisions and how sweet she thinks Jonas is. "I always trust Priyanka's judgment; she's not impulsive. She gave it a lot of thought and when she decided on something, I was sure it would be good," she said.
Luckily, she really does adore Jonas. Madhu said, "Nick is calm and mature. He's a wonderful person and everyone in the family just loves him. He's so polite and respectful towards elders." She added, "What more can a mother want!"
Well, maybe one thing...
Madhu says it is important to her that they have a traditional Indian wedding.
My daughter knew I wanted a roka before the marriage, so she never said 'no'. I haven't forced any of my thoughts on her, but I definitely want a traditional Indian wedding. That's my only wish. I started the roka with a puja [prayer], which is important for me. I'm a modern mother but at heart, I'm quite conservative.
As for the wedding date, Madhu claims it's going to be "soon" but the date is still up in the air. She says any rumored timeline released by the media is just #fakenews. "They haven't decided on a wedding date yet," she explained. "It's too soon. These are just baseless rumors. Both of them have work commitments right now which they need to finish. They will take some time to decide where they want it and when they want it."
Fair enough. Whatever mom says goes, ya know?
Jonas and Chopra's families are probably just like the rest of us fangirls and boys — excited to see two of our favorite stars in love and hopeful about the truly gorgeous children they could create one day.
Right? We all agree? Pretty babies?