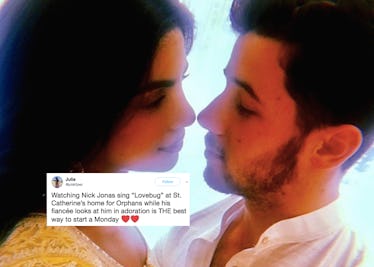 This Video Of Nick Jonas Singing To Kids In India With Priyanka Chopra Is Everything
Nick Jonas on Instagram/Twitter
Priyanka Chopra and Nick Jonas went public with their engagement this past weekend and their hearts are clearly all aflutter. They spent the weekend in Mumbai where they held their engagement party and their families finally got to meet, but they also stopped by St. Catherine's Home for Orphans (where Chopra has been volunteering for 12 years) before they left to return to the U.S. Chopra and Jonas both posted videos of each other at the orphanage, but this video of Nick Jonas singing "Lovebug" to kids in India takes the cake.
Jonas first posted a video of Chopra dancing with a young girl at St. Catherine's orphanage on Sunday, Aug. 19. Chopra and the girl were having a blast dancing for the crowd, and Jonas' caption shows how smitten he is with his fiancé. He said as his fiancé showed off her Bollywood dancing skills, "St. Catherine's orphanage today. My heart is full."
Chopra posted her heart-melting video of Jonas singing to the children on Aug. 20 and said,
12 years of knowing these girls and they get all love struck by the #lovebug... thank you @nickjonas and our families. Thank you to the sisters and all the girls at St. Catherine's orphanage for opening your hearts to us again. I'll see you next time
Get ready for all the flashbacks.
Jonas' dad, like the dutiful former dad-ager he is, is sitting right behind the couple filming the whole thing. His mom is singing along the whole time, which is also adorable as hell.
And here's that video of Chopra dancing. It's literally the sweetest thing ever:
This weekend was packed full of special moments for the couple. They went public with their engagement on Aug. 18 in matching Instagram posts, just like Joe Jonas and Sophie Turner did when they got engaged.
Jonas' caption read, "Future Mrs. Jonas. My heart. My love." Chopra's caption read, "Taken.. With all my heart and soul.." Yeah, they've definitely caught that lovebug.
Fans can't get enough of this video.
The whole Jonas family is feeling the love too, as Joe Jonas and Sophie Turner gushed over Nick and Priyanka (Niyanka? Prionus? Prick? Definitely not Prick...) on Instagram following their engagement announcement.
They each posted the same photo Jonas and Chopra posted. Jonas said, "I couldn't be happier for my brother. Welcome to the family @priyankachopra We love you." Sophie Turner's post said, "Wow. First I'm blessed with an incredible future brother-in-law, and now such an beautiful, inside and out, future sister-in-law. I'm so excited to welcome you into the family @priyankachopra . I love you both @nickjonas." One could say they're both speechless... over the edge and just... breathless.
Chopra and Jonas started dating only a few months ago and reportedly got engaged on Chopra's 36th birthday on July 18. They had one month of private engagement bliss before confirming their engagement on Aug. 18. Joe Jonas and Sophie Turner announced their engagement on Oct. 15, 2017, also on Instagram. The two couples have been seen going on double dates and being all cute and whatnot, but I'm waiting for the day we see Priyanka and Sophie do Jonas Brothers karaoke. It's bound to happen, right?!