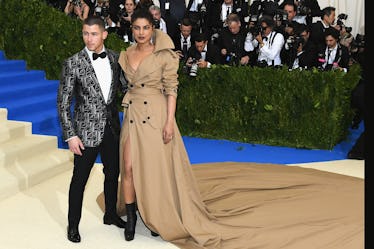 Nick Jonas & Priyanka Chopra Just Shared The Most Gorgeous Engagement Photos
Dia Dipasupil/Getty Images Entertainment/Getty Images
Don't get me wrong: Nick Jonas and Priyanka Chopra are by far the most adorable couple in all the land. Even though I vowed that Nick Jonas and I would get married as part of my 10 year plan, I can still appreciate the latest pictures from this special day in the newly engaged couple's life together. After seeing these photos of Nick Jonas and Priyanka Chopra's engagement party, I can't even let myself be mad about it anymore. They're straight-up gorgeous, and I cannot handle it.
If you somehow didn't already know about Nick Jonas and Priyanka Chopra's engagement, then seriously, what have you been doing this last few weeks? Honestly, I've just been social media stalking the couple this entire time. And I know my fellow Jo-Bro fans out there are probably feeling kind of devastated, but honestly, they're so amazing together. On Saturday, Aug. 18, the actress posted some photos from their engagement party to her Instagram, so if you don't already know that they were literally made for each other, just look at the photos. They'll seriously blow your mind. Fair warning, though: you'll probably end up eating, like, three pints of Ben and Jerry's ice cream afterwards. I know I am.
First, Chopra 'Grammed this picture of the two gazing into each other's eyes, taking in one another's beauty. The lighting is beyond magical, and honestly, they both look totally angelic. Like, I can't with these two. Too hot to handle.
The caption reads, "Taken.. With all my heart and soul.." So, in case you weren't already in a puddle on the floor, you probably are now.
Unsurprisingly, the couple's cuteness doesn't stop there. The actress continued posting equally-lovely engagement photos, including these pictures of the two of them posing with their immediate family. Her caption reads, "The only way to do this... with Family and God. Thank you all for your wishes and blessings 🙏🏼♥️🎉."
Like, how heartwarming is that? Oddly, none of Jonas' famous brothers were photographed in any of these pictures, but maybe they were feeling camera shy. Maybe Joe was busy eating cake by the ocean. Maybe Kevin was just being the family man that he is. Who knows, really?
Anyway, if you're ready to feel all the FOMO in the world, The Indian Express posted even more pictures from the engagement party, including snapshots with friends, and even some cute candid pics. The event reportedly took place in the city of Mumbai, India, so if you weren't in attendance, you definitely missed out on something really, really special.
It's hard not to be a little obsessed with Chopra and Jonas' engagement. Their relationship is totally unreal: They're both model-status gorgeous, and their engagement party looked like a real life fairytale. If you're not currently writhing in jealousy, or diving face first into a giant vat of chocolate pudding, then good for you. I, on the other hand, just can't really cope with any of this, so if you need me, I'll just continue being a mess by my lonesome, over here. Although, the engagement pics are totally gorgeous, so I might have to take just one more peek at them.