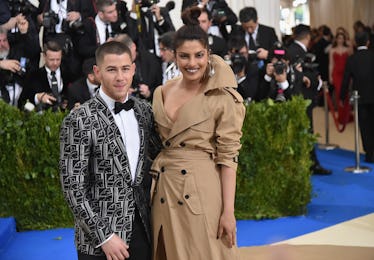 These Sweet Engagement Pics Show Priyanka Chopra Getting Close With The Jonas Fam
Mike Coppola/Getty Images Entertainment/Getty Images
Now that Priyanka Chopra and Nick Jonas have finally confirmed that they're engaged, the reveling shows no signs of slowing down. Shortly after the happy couple confirmed the news on Saturday, Aug. 18, the party took a sweet turn in Mumbai, India, where the in-laws had come together to celebrate. Just one look at these photos of Priyanka Chopra and Nick Jonas's engagement bash proves that the Quantico actress is already fitting right in with her Jonas in-laws.
On Saturday, the newlyweds-to-be put on their dancing shoes to toast the exciting news that yes, they're engaged after only a few months of dating, and yes, they're crazy in love. Shortly after making me believe in romance again with his cuter-than-cute post, captioned "Future Mrs. Jonas. My heart. My love" (Ugh, MY heart), Jonas took to his Instagram Story to show that they were living it up — and they made the night all about family.
Previous reports revealed that Jonas' parents would be making the trip to India to meet Chopra's mom and dad, and it looked like the bonding between the two families was still going strong come Saturday evening. In fact, the "Bacon" hitmaker's photo on his Instagram Story of Papa Jonas hanging out with Chopra's Bade Papa has them looking super friendly (catch that arm around the shoulder), and may have just melted my heart a little bit.
From the looks of it, the bride-to-be also spent the evening getting even closer with her extended fam. Jonas took to his Instagram Story to share a heart-melting shot of him and Chopra kissing his parents on the cheek. If their giant smiles are anything to go by, it's safe to say that she's in with the Jonas clan.
Unfortunately, future brother-in-law Joe Jonas and his fiancé, Sophie Turner, were unable to attend the festivities, but their feelings about the couple are pretty clear. Soon after the lovebirds shared their news on Instagram, the Game of Thrones star took to the social media app to post just how excited she is to welcome her fellow actress to the family. There's so much love, and I can't handle it.
"Wow. First I'm blessed with an incredible future brother-in-law, and now such an beautiful, inside and out, future sister-in-law," she wrote. "I'm so excited to welcome you into the family @priyankachopra. I love you both @nickjonas."
While a few family members couldn't be there, it obviously didn't put a damper on the celebration. A video Jonas posted on his Story shows his fiancé dancing her heart out to a Cardi B's "I Like It" while he nods along, and it's impossible not to notice how happy they look.
While Chopra's mom Madhu was not pictured at the event, she recently shared some stellar words of wisdom about marriage in an interview with ZoomTv.com. According to Bollywood Life, Madhu said that a husband should make sure to take care of his wife's health and happiness, and that the couple should try to celebrate each day together like it's Valentine's Day. Aww.
Citing her own marriage with Ashok Chopra, she also said that when it comes to arguments, it's best to put everything on the table and listen to each other's points of view. Sounds like mom definitely knows best.
The couple ended their evening of dancing and making merry with an intimate selfie together, per an IG post from celebutantez. It's safe to say that engaged life definitely agrees with them. Now, let the countdown to the wedding officially begin.