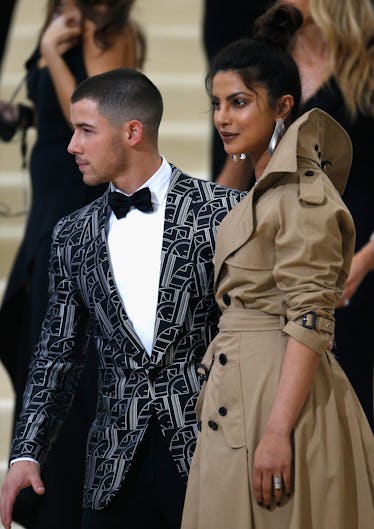 Nick Jonas & Priyanka Chopra Just Confirmed Their Engagement With The Sweetest Photos
John Lamparski/Getty Images Entertainment/Getty Images
It's been almost a month now since the world learned that Priyanka Chopra and Nick Jonas are making their love official after only two months of dating in the spotlight. Since July 27, the lovebirds have been hinting at their engaged status (I can't get over that massive ring), and now the wait is finally over. That's right, Priyanka Chopra and Nick Jonas confirmed their engagement with the cutest matching Instagram posts, and I'm so shook.
Out of all of the couples who've pulled an Ariana Grande and Pete Davidson and turned a quicker-than-quick romance into an engagement, Chopra and Jonas are my favorite. They've kept their relationship status largely out of the public eye and don't feel like they have to prove that they're crazy about each other to anyone else. In fact, it took them until Saturday, Aug. 18 for them to finally confirm that yes, they're planning to tie the knot, and I'm completely floored by their simple, yet completely heart-melting joint announcement. Honestly, who knew that seven words could be the epitome of romance?
"Future Mrs. Jonas. My heart. My love," the "Chains" hitmaker penned in a post on Saturday morning, effectively making their engagement Instagram official.
While the youngest Jo Bro's sentiments pulled at my heart strings, it was the intimate photo that totally did it for me. Instead of sharing a totally overdone engagement shoot, Jonas posted a completely intimate selfie that somehow made the whole thing even more special. The couple can be seen gazing into each other's eye like nothing else exists, and it's definitely the cutest thing I've ever seen. The icing on the cake? Chopra's blingy diamond, which takes center stage as she places her hand on her fiancé's chest.
The 36-year-old actress also took to the social media platform to return the love. "Taken.. With all my heart and soul.." she wrote, sharing the same picture.
It turns out that the selfie they chose to announce the good news has a special story behind it that makes the whole thing even more romantic. Chopra's second post shows photos from the pair's official engagement party in Mumbai, India, where it was previously reported that the lovebirds' parents would finally meet. If the pictures are anything to go by, it was a completely gorgeous ceremony. It also looks like the meeting of the in-laws went well, as Chopra and Jonas can be seen cheesin' and posing with their families in one sweet shot.
Chopra captioned the slideshow:
The only way to do this... with Family and God. Thank you all for your wishes and blessings 🙏🏼♥️🎉
Per The Indian Express, it looks like there was no shortage of professional photographs from the festivities, and the fact that they chose a more intimate photo (probably taken when they stole away from the group to enjoy a few moments to themselves) to confirm their upcoming nuptials makes me like them even more.
Now that the cat is officially out of the bag, I'm hoping that these newlyweds-to-be will be a little less reticent when it comes to their wedding plans. Could a ceremony be happening sooner than you might think? One thing's for certain: The engaged life definitely looks good on this pair.