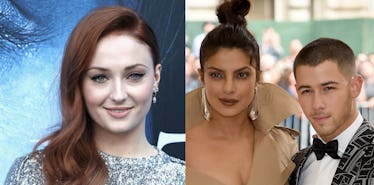 Sophie Turner Shared This Excited Message About Priyanka Chopra Joining The Fam
Frederick M. Brown/Getty Images Entertainment/Getty Images/Dimitrios Kambouris/Getty Images Entertainment/Getty Images
Now that Priyanka Chopra and Nick Jonas have finally confirmed that they'll be exchanging their "I Do's" via matching announcements on Instagram, the congratulations from the future in-laws are pouring in. Honestly, Sophie Turner's reaction to Priyanka Chopra and Nick Jonas' engagement is so adorable, and it proves that she's over the moon to welcome her future sister-in-law to the Jo Bro fam.
Shortly after the newlyweds-to-be melted my heart with their proclamations of love (TBH, I'm still swooning over Jonas' message), Turner took to Instagram to share her own thoughts about the couple's engagement, per Cosmopolitan. Spoiler: The Game of Thrones star has got ~ feelings ~ about Chopra joining the family, and it's seriously sweet. After all, Turner is currently engaged to the one of the other Jo Bros, Joe Jonas, and it sounds like she definitely approves of Nick's choice for the "future Mrs. Jonas."
"Wow. First I'm blessed with an incredible future brother-in-law, and now such an beautiful, inside and out, future sister-in-law," the 22-year-old wrote on Instagram as she re-shared the couple's announcement selfie taken from their Mumbai, India engagement party.
She continued, "I'm so excited to welcome you into the family @priyankachopra . I love you both @nickjonas."
Meanwhile, older brother Joe Jonas also took to Instagram to echo similar sentiments. The 29-year-old, who's been engaged to Turner since October 2017, wrote, "I couldn't be happier for my brother. Welcome to the family @priyankachopra We love you 🤗."
Such little time, so much Jonas family love. Papa Jonas, aka Nick's dad Kevin, also shared his support of the union on the social media platform and tagged all of the family members.
"So happy for the engagement of our son @nickjonas and we welcome @priyankachopra into our family with love and excitement," he wrote.
Despite the brief timeline of their public courtship (as far as the world knows, Chopra and Jonas were only dating for two months before the 25-year-old decided to get down on one knee), it appears that the actress has already won over the hearts of the Jonas family. Unsurprisingly, the engaged couple's double dates with Joe Jonas and Sophie Turner on July 4 and then again on July 16 were one of the first clues that things were getting serious. Honestly, what better way to show you're getting close to someone than by joining their family for a Citi bike ride around New York City? I'm guessing that the double dates went really well if she's calling Chopra "beautiful, inside and out." It really sounds like Turner is a big fan of her future sister-in-law and fellow actress. Considering how close the Jonas family is, part of me wonders if Sansa Stark will be part of Chopra's wedding party and maybe even get the chance to bond with Duchess of Sussex, Meghan Markle.
While Turner and Joe Jonas have shown that they're not in any hurry to tie the knot since becoming engaged last October, I could see that changing now that Chopra and Jonas reportedly "want to get married very soon," according to Us Weekly. Could a joint Jo Bro wedding be in their future? Hey, a girl can dream.