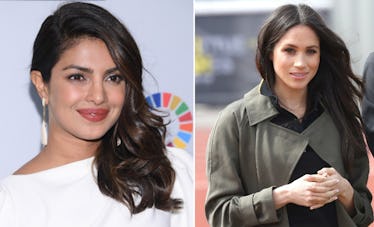 You Could See Meghan Markle At Priyanka Chopra's Wedding Thanks To This Royal Rule
DIMITRIOS KAMBOURIS/GETTY IMAGES ENTERTAINMENT/GETTY IMAGES | CHRIS JACKSON/GETTY IMAGES ENTERTAINMENT/GETTY IMAGES
Now that Priyanka Chopra and Nick Jonas have finally confirmed that they'll be walking down the aisle, I can't stop wondering if one of the actress's most famous BFFs will be making an entrance at their highly-anticipated nuptials. Well, if you're wondering if Meghan Markle will attend Priyanka Chopra's wedding, I've got good news. According to royal protocol, there's a high chance that the two actresses could reunite for the big day.
Elite Daily reached out to Kensington Palace for comment on whether the Duchess of Sussex might attend the future nuptials, but didn't hear back at the time of publishing. Considering that Chopra made a memorable entrance (lavender suit, Philip Treacy fascinator, and all) at Markle's royal ceremony on May 19, I couldn't help but wonder if the new Duchess of Sussex would return the support as her friend weds the youngest Jo Bro. Luckily, it turns out that royal protocol — which has previously dictated that Markle delete her social media accounts and stop taking selfies, among other things — doesn't forbid her from attending a close friend's wedding, according to People.
Basically, it's completely up to her if she and Prince Harry decide to make the trip across the pond. Honestly, half of me is so relieved, and the other half is already wondering if Prince Harry will hit it off with Joe Jonas and fellow Brit, Game of Thrones star Sophie Turner. Is it just me, or would this be one epic double date?
That being said, there's no guarantee that we'll be seeing Markle and Prince Harry at the wedding that has no set date just yet. The newlyweds have a pretty jam-packed schedule this fall with their royal tour to Australia, Fiji, the Kingdom of Tonga, and New Zealand, and Chopra and Jonas reportedly "want to get married very soon," per Us Weekly. Busy schedules or not, however, there are a couple reasons that I think Markle will make an extra effort to be there for her bestie's big day.
First of all, she and Prince Harry were reportedly one of the first people that the newly engaged couple told about their proposal, as Jonas and Chopra were reportedly in London when the 25-year-old got down on one knee. If reports of a double date weren't cute enough, Markle is reportedly on board and "very excited" about her friend's engagement. The newest royal has also been enjoying the wedding circuit with Prince Harry, and she recently attended a friend's nuptials on her birthday. Then there's Markle and Chopra's great friendship, which reportedly hasn't been weakened by the former Suits' star's move to England.
"I think friendships depend on people individually and how personal your relationship is," Chopra told People about their long distance friendship in a July interview. "You can have work friendships, those are different. But when you have real friendships, like ours, it doesn't matter what people look at you as or where your world goes, you sort of just, stay friends. And I think that's what we're like." BFF goals.
After all the sweet things Chopra has said about the duchess, something tells me that Markle would have the most amazing toast planned for her walk down the aisle. Honestly, I'm just hoping that Prince Harry and Meghan Markle opt to break royal protocol for a photo-op with the Jo Bros.