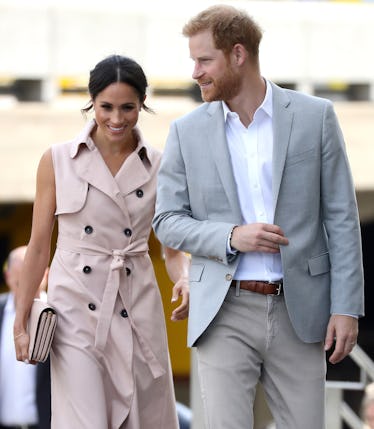 Meghan Markle & Prince Harry's Reported Vacation House Will Give You So Much FOMO
Chris Jackson/Getty Images Entertainment/Getty Images
Meghan Markle and Prince Harry's highly-anticipated October visit to Australia is coming up in just a few months, and it's safe to say that they will receive the royal treatment for their first tour as newlyweds. The Herald Sun revealed a few details about where they'll be staying while in Sydney. From the look of things, Meghan Markle and Prince Harry's reported mansion for their first royal tour is fit for a queen. Seriously, I just might third-wheel the Duke and Duchess of Sussex, because their reported luxurious Sydney crib is giving me major FOMO.
Five weeks before their highly-anticipated nuptials, the newlyweds revealed that their first tour after tying the knot would be a trip down under for a great cause close to their hearts: the 2018 Invictus Games, which Prince Harry created in 2014. While there are still several months to go before the royals make their royal tour debut as a married couple, the pair reportedly have arrangements to stay at a luxury villa, according to a Sunday, Aug. 12 report from The Herald Sun. Elite Daily reached out to Kensington Palace for a comment on the royal couple's accommodations in October, but did not hear back at the time of publishing.
The Australian publication reports, "The royals have reportedly secured a multimillion-dollar luxury home in Sydney's Eastern suburbs, with breathtaking beachfront views and eight bedrooms." While no exact mansion has been named (Prince Harry and Markle understandably don't want all of us trying to get in on their private digs), the news site says that their home will be very similar to Point Piper prize residence Villa del Mare, per interiors magazine Inside Out.
Take a look, and try not to feel too left out.
According to Property Observer, the three-level Villa Del Mar features five living and dining areas, an infinity swimming pool, beautiful gardens, as well as breathtaking views of Sydney's famed Opera House, the Harbour Bridge, and the city's skyline. In addition to boasting a gym and a wine cellar, the mansion is renowned for its remote-controlled billiard pool table that can sink into the floor for easy storage. Basically, Prince Harry and Meghan Markle would have no problems entertaining themselves once their royal duties were over in a spot like this. Again, this isn't the exact home where they will stay, but it is reportedly very similar to their Australian spot.
While the couple's exact digs are still a mystery, we have a better idea of what they'll be doing during the day. Prince Harry and Meghan Markle are in town from Oct. 20 through Oct. 27 for the fourth Invictus Games, the 2018 Paralympic-style competition that Harry has been a big part of since its founding. The event, which welcomes wounded and recovering soldiers around the world to compete, also holds a special meaning for the newlyweds. They made their first public appearance as a couple at Toronto's Invictus Games in September 2017. Then, on April 6, 2018, the couple oversaw the U.K. team's trials together, while wearing matching black polos, no less.
It's actually pretty romantic that the Duke and Duchess of Sussex will mark the beginning of their first royal tour with a meaningful trip down to Australia. And now that they've apparently got some luxurious lodgings sorted out, they can focus on enjoying themselves. In the meantime, I'll be over here not staying in an Australian mansion. Vacation envy is too real, you guys.