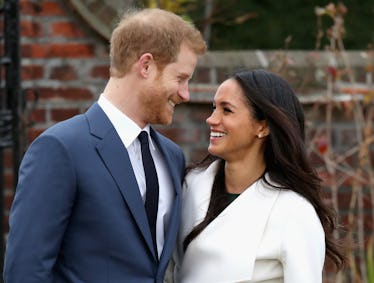 The Way Meghan Markle & Prince Harry Will Spend Her 37th Birthday Together Is Surprising
Chris Jackson/Getty Images Entertainment/Getty Images
Can you guys imagine what a royal birthday party looks like? I bet the silverware and plates actually dance like they do in Beauty and The Beast. Meghan Markle is celebrating her first birthday as the Duchess of Sussex and ringing in her 37th year with Prince Harry, Duke of Sussex, by her side. Fans have been curious about how the two newlyweds are planning to celebrate and we finally have an answer. The truth is, Meghan Markle and Prince Harry's plans for her 37th birthday are surprising, but maybe not in the exciting way you expected. It turns out royal duties don't just stop because it's your birthday, and Meghan and Harry will actually be attending someone else's wedding on her big day.
Womp, womp.
Reportedly, Prince Harry is the best man in his close friend Charlie Van Straubenzee's wedding. Straubenzee is marrying a woman named Daisy Jenks, and their nuptials just happen to fall on August 4, a.k.a. the day our Duchess Meghan was born. Royal photographer Tim Rooke let the details slip when he posted about the wedding on Twitter. Rooke posted:
Unfortunately I will be missing the wedding of Charlie Van Straubenzee and Daisy Jenks where Prince Harry will be best man on August 4th in Churt Surrey as I will be on the beach. Can't do everything!
You said it, Tim.
Still, something tells me Meghan won't hold it against Prince Harry's bestie and will be delighted to enjoy a celebration without having to be the center of attention this time. The truth is, ever since Meghan and Harry announced their engagement back in November 2017, the press has not let up following their every move. Everything from what Meghan wears to her and Harry's body language has been analyzed, heavily documented, and talked about at length. Most recently, Meghan's family back in the States has been making headlines, too, and not for good reason.
Her father, Thomas Markle, and half-sister, Samantha Markle, have been particularly prickly in the press, shaming Meghan for "shunning" them and allegedly breaking off communication. Regarding Meghan's birthday, Thomas recently told the Daily Mail,
If I send a birthday card to Kensington Palace, or wherever she's living now, it'll just be one among thousands. I thought about sending it by Priority Mail Express, but the Palace would probably just soak it in water for three days to make sure it doesn't explode.
Yikes.
According to a royal source who spoke with Entertainment Tonight, Meghan and Harry "are frustrated he keeps speaking to the tabloids and taking payment for interviews" and "haven't had any contact" with him. Elite Daily reached out to the palace previously for comment on the report, but they declined to comment.
For her part, Samantha Markle essentially copped to cashing in on her sister's celebrity status and using interviews to make money, too. During an interview with Good Morning Britain, Samantha said, "we all have to survive, money makes the world go round."
Look, whatever.
The thing that matters most to me is that, one way or the other, Meghan gets a delicious slice of cake on her birthday, even if that's a wedding cake. Le sigh.