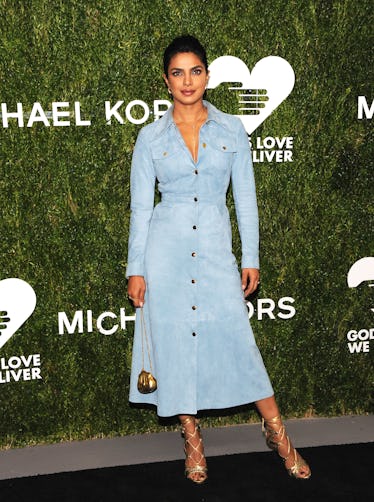 Priyanka Chopra Just Gave A Tiny Clue About What Her Wedding Dress Will Look Like
Desiree Navarro/Getty Images Entertainment/Getty Images
There's a lot going on in the celebrity world right now. We've got royal pregnancies, reportedly broken-off engagements, and everything in between. But there's one couple who is steering clear of the ~drama~, and that's Priyanka Chopra and fiancé Nick Jonas. (Can I just say, on behalf of everyone, thank you for being so chill, you two.) And now that they are in the early stages of wedding planning, the world wants to know all the tea. Where will they get married? What famous names will be on the guest list? Most importantly, what will the bride be wearing? Well, we just got word of Priyanka Chopra's first wedding dress clue, and it's making me pretty damn excited.
According to Entertainment Tonight, the 36-year-old actress was looking gorgeous in a Michael Kors dress on the red carpet at the God's Love We Deliver, Golden Heart Awards at Spring Studios in NYC on Tuesday, Oct. 16, and talked about her engagement to singer Nick Jonas. Not only that, but she gave away a few hints about the style she's going for when it comes to her wedding dress (!!!).
"I always believed that anything and everything that I wear, I have to be comfortable and cute," Chopra said. "So it's going to be cute and comfortable."
OK, can I just say that every single bride should be going for cute and comfortable? Because who wants to be stuck in a dress where you can barely breathe for 12 hours straight on a day where you should be having the time of your life? Not me, that's for damn sure.
My mind immediately wanders to my idea of a cute dress for Chopra that's built for comfort and all I can think of is pockets. It's got to have pockets!
While the jury is still out on whether or not Chopra's dress will have pockets (perfect for snacks and for when you're posing for a photo and don't know what to do with your hands), but Michael Kors himself had a few things to say about the bride-to-be and what he envisions her to look like on her wedding day.
"What I love about Priyanka, she's smart, talented and beautiful and she knows what works on her," he told Entertainment Tonight at the event. "So I know she'll look her best self, which is what every bride should be."
And I'm not trying to start a conspiracy here or anything, but I do need to point out that Chopra's Michael Kors dress that she wore to the event? Oh yeah, IT HAS POCKETS.
But I digress.
Let's be real: Priyanka Chopra can't not look good, so whatever she ends up wearing when marrying Nick Jonas, she's going to absolutely nail it.
Now, all we need to know is when exactly Priyanka Chopra and Nick Jonas will get married, and, apparently, it might be sooner than later. A source told Entertainment Tonight,
Priyanka and Nick are ready to tie the knot sooner than later. The couple has had an accelerated relationship, and is very comfortable with one another. Priyanka has already been planning the wedding for a couple of months now and is excited to call Nick her husband one day. Priyanka and Nick are on the same page about wanting to get married earlier rather than later, and are telling friends it will most likely be next year.
Elite Daily reached out to Chopra and Jonas' teams regarding the report, but did not hear back by the time of publication.
Hopefully, we'll get to see Priyanka walk down the aisle to Nick in less than a year's time in a gorgeously comfortable (and pocketed) dress.