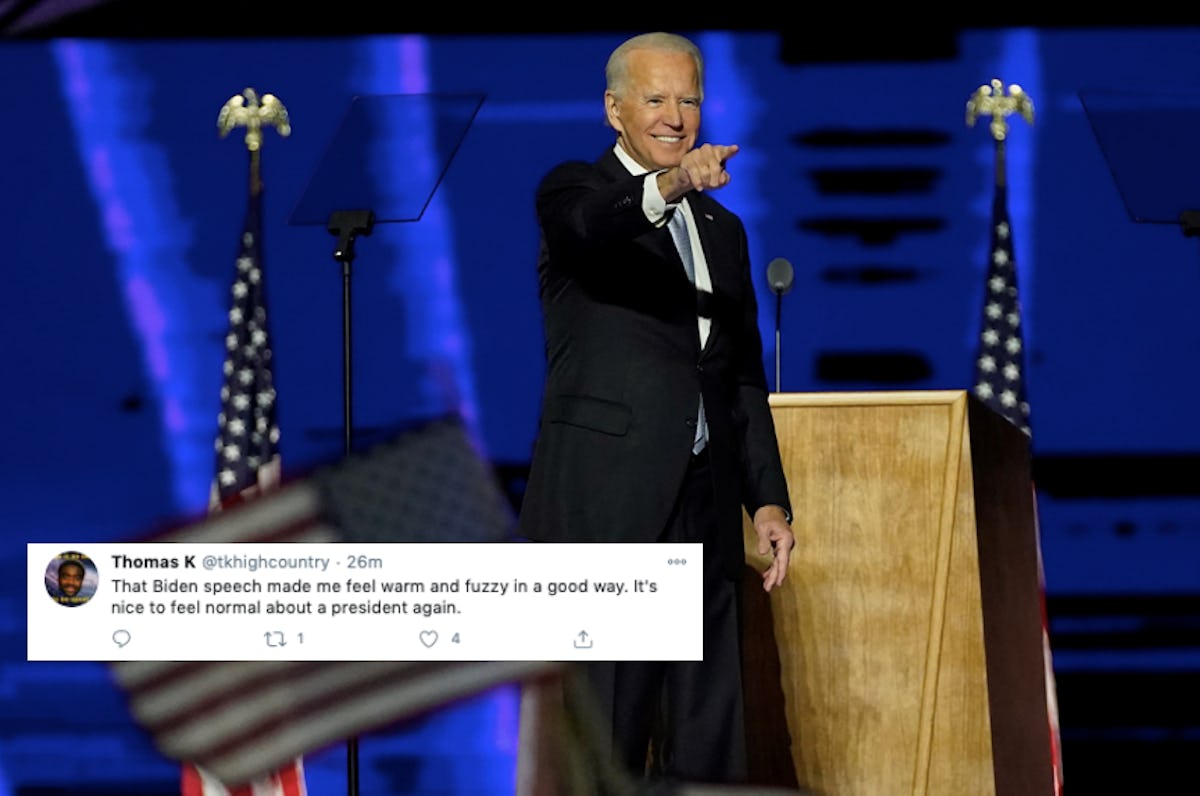 People Are Loving Joe Biden's Emotional Message About Unity In His Victory Speech
ANDREW HARNIK/AFP/Getty Images, Twitter
It's officially Joe Biden day on Twitter. After the former Vice President won Pennsylvania on the morning of Saturday, Nov. 7, several major outlets called the election in his favor, including the Associated Press, CNN, and The New York Times. The end of the drawn-out election had everyone celebrating on social media, and that celebration continued into the night, as Biden made a public address about his big win on television. These tweets about Joe Biden's victory speech show just how hype viewers are about the new President-elect.
Once Biden's projected win was announced early on Nov. 7, Twitter exploded with tons of hilarious, emotional, and excited reactions. Several videos went viral showing elated supporters dancing in the streets and holding impromptu parades across the nation, and notable political figures shared heartfelt congratulations to Biden and his running mate, Sen. Kamala Harris, on Twitter, including Barack Obama, Michelle Obama, and Hillary Clinton.
All the positive energy continued into the night during Biden's first public address as the President-elect. During his speech from Biden HQ in Wilmington, Delaware, Biden told the crowd, "I am proud of the coalition we put together, the broadest and most diverse in history," he said. "Democrats, Republicans and Independents. Progressives, moderates and conservatives. Young and old. Urban, suburban and rural. Gay, straight, transgender. White. Latino. Asian. Native American."
And he continued, "For those moments when this campaign was at its lowest — the African American community stood up again for me. They always have my back, and I'll have yours. He also said he'd work to "root out systemic racism in our country." Twitter lit up with supporters loving his message about unity.
Biden said the battle "to restore decency, defend democracy, and give everybody in this country a fair shot" starts with getting the coronavirus pandemic under control. "On Monday, I will name a group of leading scientists and experts as Transition Advisors to help take the Biden-Harris COVID plan and convert it into an action blueprint that starts on January 20th, 2021," he said. People on Twitter expressed how hopeful they felt after Biden's speech, especially knowing part of his plan for when he takes over the presidency.
Biden also gave a shout-out to Harris during his speech and how historic her win is, as she will be the first woman, Black person, and South Asian American person to be elected vice president of the United States. He said, "It's long overdue, and we're reminded tonight of all those who fought so hard for so many years to make this happen. But once again, America has bent the arc of the moral universe towards justice." He also called Harris and her husband, Doug Emhoff, family.
Biden concluded his speech saying, "With full hearts and steady hands, with faith in America and in each other, with a love of country — and a thirst for justice — let us be the nation that we know we can be."