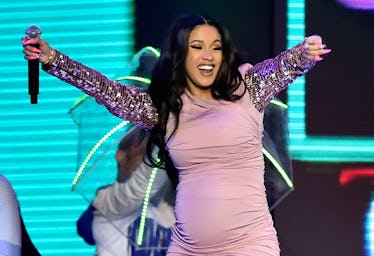 Cardi B's Baby Name Has Twitter Totally Tongue-Tied
David Becker/Getty Images Entertainment/Getty Images
Sound the alarm — okuuurrrr! Cardi B's baby is here, and I am living for this princess. Cardi B delivered her first child with fiancé Offset on Tuesday, July 10, and the world is going crazy. The "Bodack Yellow" rapper just announced her daughter's name, and you aren't ready for this... Are you sitting down? Welcome, Kulture Kiari Cephus! As you might expect, people took to Twitter to react, and these tweets about Cardi B's baby name prove the whole world is in awe of this growing family.
Cardi announced the birth of her child on Instagram (naturally) on Wednesday, July 11. The picture shows a very pregnant Cardi B sitting amid a bunch of flowers on a cool-looking white chair. She wrote in the caption, simply, "Kulture Kiari Cephus 07/10/18🎀🌸 @offsetyrn." It's so sweet!
In mid-April, Cardi B admitted she didn't pick the epic name. Actually, Offset did. During an appearance on The Ellen Show, Cardi B confessed, "My dude named the baby," adding, "I really like the name." She also told Ellen DeGeneres she was going to let Offset tell the world what they chose to call their daughter considering he was the one who came up with it. How thoughtful.
At the time, she warned DeGeneres and fans it was going to "almost" be hard to say, but something tells me everyone will catch on just fine. "Cardi" isn't exactly common either, ya know? DeGeneres guessed the name Suzanne, which is hilarious to think about now. The talk show host also offered Cardi B $20,000 dollars if she named the baby Ellen. Cardi seemed to consider it seriously for a moment before saying, "that could be its middle name."
Now that her baby's name is here, Twitter has been having a field day reacting to it. Of course, many people were just taken aback (in a good way!) by the pure magnitude of that name.
Ultimately, many people agreed it was a fitting name for the baby of these icons.
The truth is, Cardi is at the very top of her game. Being a young mom and taking on a new marriage doesn't have her worried in the slightest. During an interview on iHeartMedia's Power 105.1 The Breakfast Club show, she delivered maybe my favorite quote of all time, saying: "I'm a grown woman, I'm 25 years old ... I'm a schmillionaire ... I'm prepared for this." She added she preferred to have children sooner than later in life, explaining, "I don't want to wait until I'm 30-something to have a kid. I want my kid now, now that I have energy."
According to Cardi, a lot of people around her were nervous about how her pregnancy and marriage were going to affect her career, but she feels like they're overreacting. She told The Breakfast Club, "A lot of people were telling me, 'What are you doing? What are you doing?' And I'm like, 'OK, I'm pregnant, but I have a game plan, Y'all gonna have a job still.'"
If Cardi B's life as a pregnant woman is any indication of what her life will be like as a mother, there's no chance this woman is slowing down. Throughout her pregnancy, she continued to perform, drop music videos, and even attend the Met Gala in a wildly heavy dress, all while growing another human inside of her. There is no better mom Kulture Kiari Cephus could have asked for.
Welcome to this wild, fast world, Kulture. I can't wait to see you grow up!
Check out the entire Gen Why series and other videos on Facebook and the Bustle app across Apple TV, Roku, and Amazon Fire TV.