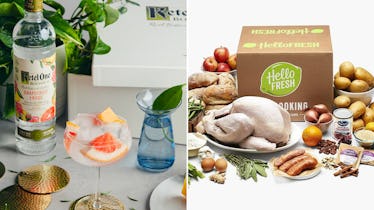 These Thanksgiving Meal Kits Will Take All The Stress Out Of Planning The Big Feast
Ketel One/HelloFresh
I've always been enamored with the idea of throwing a sophisticated dinner party. Setting out perfectly folded cloth napkins and whipping up dishes full of gourmet ingredients seems like the pinnacle of adulthood. But when it comes to the actual planning and cleaning and cooking required to throw a fancy party for my friends, the whole thing is easier dreamed than carried out. With Thanksgiving fast approaching, if you're hoping to throw a get-together with some of your BFFs, take some of the stress off yourself by turning to one of these Thanksgiving meal kits for a little extra help.
By chipping in for one of these boxes, you'll eliminate all of that pesky coordinating that can come with organizing a Thanksgiving potluck. (After all, who wants to have to cook the turkey alone?) But if you and your pals actually enjoy cooking, just meet up a little early to make the meal together and take advantage of the helpful, pre-measured ingredients.
If you turn on an energetic playlist and light a few fall-scented candles, the cooking process will go by in no time; plus you'll enjoy the feast that much more after putting it together as a group. Happy feasting!