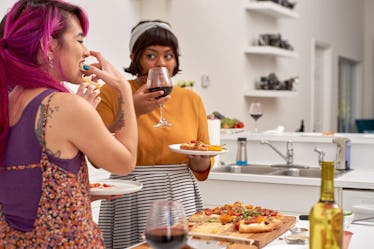 Experts Say The Mental Health Benefits Of Cooking Are Even Better Than The Food Itself
My personal food icon, the fabulous Chrissy Teigen, has done it again. This woman always makes a point to be candid in anything and everything she does, so, naturally, the same held true when, in her new cookbook, she opened up about how the mental health benefits of cooking helped her cope with postpartum depression. As a foodie myself, I've always seen cooking as a therapy of sorts; it's a way to create something totally unique, completely from scratch, and the best part is, you have a delicious treat to enjoy when all is said and done. All of that aside, though, as per usual, Teigen was on to something when she wrote about how cooking has affected her well-being.
In her cookbook Cravings: Hungry for More, Teigen wrote, "It sounds like a cliché, but starting to cook again really helped me get back on my feet and get back into normal life." According to experts, the 37-year-old celeb is 100 percent right: Devoting time to cooking can definitely benefit your mental health. "Cooking is a deeply human activity — nourishing ourselves and others is beneficial to our mental and emotional health," Pip Waller, a medical herbalist, holistic healer, and author of the book Deeply Holistic, tells Elite Daily in an email. "It can also be fun and very rewarding to create lovely meals."
Whether you're just starting to learn a few simple recipes, or you're such an expert in the kitchen that you think you could hold your own on Chopped, cooking clearly comes with a whole bunch of benefits. Just make sure that your cooking time is quality, says Waller. "Doing anything in a stressed rush is counter to encouraging good mental health," she explains.
Obviously there's a time and place when a quick, microwavable meal is all that fits into your schedule, but that probably won't do a whole lot for your mental state. For those nights when you have a little more time to get creative in the kitchen, though, remember it will definitely pay off.