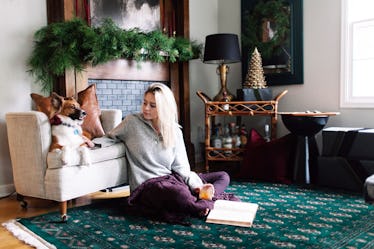 Try To Eat These 4 Foods During Thanksgiving If You Don't Wanna Pass Out After The Meal
When I was growing up, we did things a little differently on Thanksgiving. Since my mom's from Cuba, she decided to put her own spin on the classic turkey and stuffing combo by filling the inside of the meat with black beans and rice instead of following the usual recipe. We also eat other non-traditional foods like shrimp and mounds of guacamole on the big day, which I love. Whether your family also makes their own food traditions or sticks to the standard spread, it's always a good idea to include Thanksgiving foods that give you energy on your Turkey Day table. That way, you can Black Friday-shop 'til you drop, join in a family football game in the backyard, or just stay awake long enough to gossip on the couch with your favorite cousin.
BTW, this definitely doesn't mean waving goodbye to your beloved sweet potato casserole, or any of the other Thanksgiving staples you know and love. If energy levels are a priority for you, says holistic health coach Erin Wathen, consider picking your favorite carb-heavy dish instead of filling your entire plate with potatoes or pie. "Be sure to eat it with the rest of your meal as to not suck all of your energy," she tells Elite Daily in an email.
An overall word of advice is to really savor every dish. "Allowing yourself to truly be in the moment, eating mindfully and keeping the holiday's spirit of gratitude in your thoughts, may actually help you avoid overeating," says Shauna McQueen, MS, RD, a nutrition curriculum developer at Integrative Nutrition, "so you can leave the table feeling revitalized rather than ready to crash."
Along with fluffy rolls or the creamiest macaroni salad imaginable, here are some delicious Thanksgiving foods to savor this holiday.