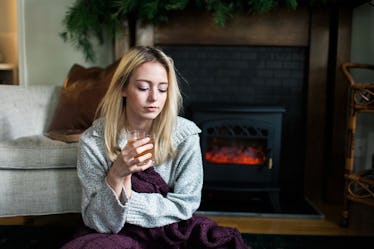 The 5 Foods At Thanksgiving Dinner That Could Make It Hard To Sleep, According To Experts
Grab the stretchiest pair of pants you own, wash them, iron them, and hang them at the front of your closet so they're readily available come Nov. 22. That's right, friends: Turkey Day is weeks away, and I don't know about you, but my body is ready to indulge in all the stuffing, rye bread, cranberry sauce, and pumpkin pie it can handle before passing out in front of my parents' television. But contrary to popular belief, not all Thanksgiving delicacies induce those famous post-dinner sleepy feels. There are actually some Thanksgiving foods that make it hard to sleep scattered amongst your holiday spread, which basically means, if you don't want to be this year's designated sleeping beauty or wide awake after the celebrations have ended, you'll just have to be a little more mindful of what you're putting on your plate. Or, you know, don't, and just be aware of the fact that if you can't score even a few hours of shut-eye before Black Friday shopping, then your menu might be to blame.
Now, I wouldn't exactly say Thanksgiving gets a bad rap for the food comas that ensue after a large turkey dinner, because, TBH, I don't know anyone who doesn't enjoy a delicious nap after an equally delicious meal. IMO, it's kind of what dreams are made of. But there's definitely a lot of buzz around the subject every year. Everyone wants to know about the most sleep-inducing foods on the table — not to avoid them, per se, but just to know what's causing their eyelids to droop well before the sun even sets. But what about the other food dishes your relatives contribute to the meal? What do they do for your bedtime behavior?
The truth is, every piece of food you pop into your mouth — be it on Thanksgiving, or the rest of the 364 days of the year — contributes to your sleep hygiene, aka the lifestyle habits that prepare your body and mind for sleep, in one way or another. Some foods, like those that are heavy in carbohydrates and starches, tend to make you sleepy. Others, like anything with caffeine, processed sugars, or alcohol, have the opposite effect, triggering a buzz that wakes you up.
As much as I encourage each and every one of you to indulge in all the delicious foods your Thanksgiving feast has to offer, it's worth knowing which dishes are making you sleepy, and which ones are making it difficult to rest. Here are a few foods that might negatively affect your ability to sleep this Thanksgiving.