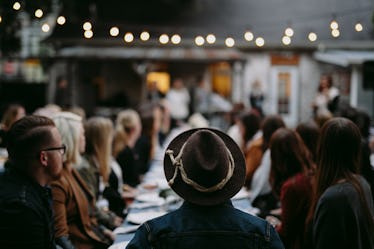 11 Plant-Based Thanksgiving Foods That Are So Delicious, You'll Forget All About The Turkey
Thanksgiving is the ultimate community holiday. You spend a day with your loved ones — whether you consider that to be the family you were born with, or the family you've made as an adult — and all you do is eat food, argue about politics, and slowly adjust your belt to be looser and looser as the night goes on. Add in a dash of football, and three to four (minimum) glasses of wine, and you've got yourself the perfect Thanksgiving celebration. But for those feeling a little adventurous this year, a plant based Thanksgiving guide is just the trick you need to be the unique belle of the potluck ball.
For vegan and vegetarian chefs, a Thanksgiving without dairy or meat is the hail mary event you dream of throwing. Can you really fool your meat-loving friends into devouring your dishes? Can you create a dessert that's actually good for you? These are the questions that keep you up at night, and I'm here to help make your ambitions a reality. Plant-based dishes don't have to be a sacrifice for your palate, nor do they have to feel "healthy" in the bad (read: gross) way, if you know what I mean. When done right, and with a little prep time, a plant-based Thanksgiving can be just as scrumptious and decadent as the one filled with meat and cheese and milk. Here are a few vegan Thanksgiving dishes that are so ridiculously tasty, you'll forget all about the traditional turkey.