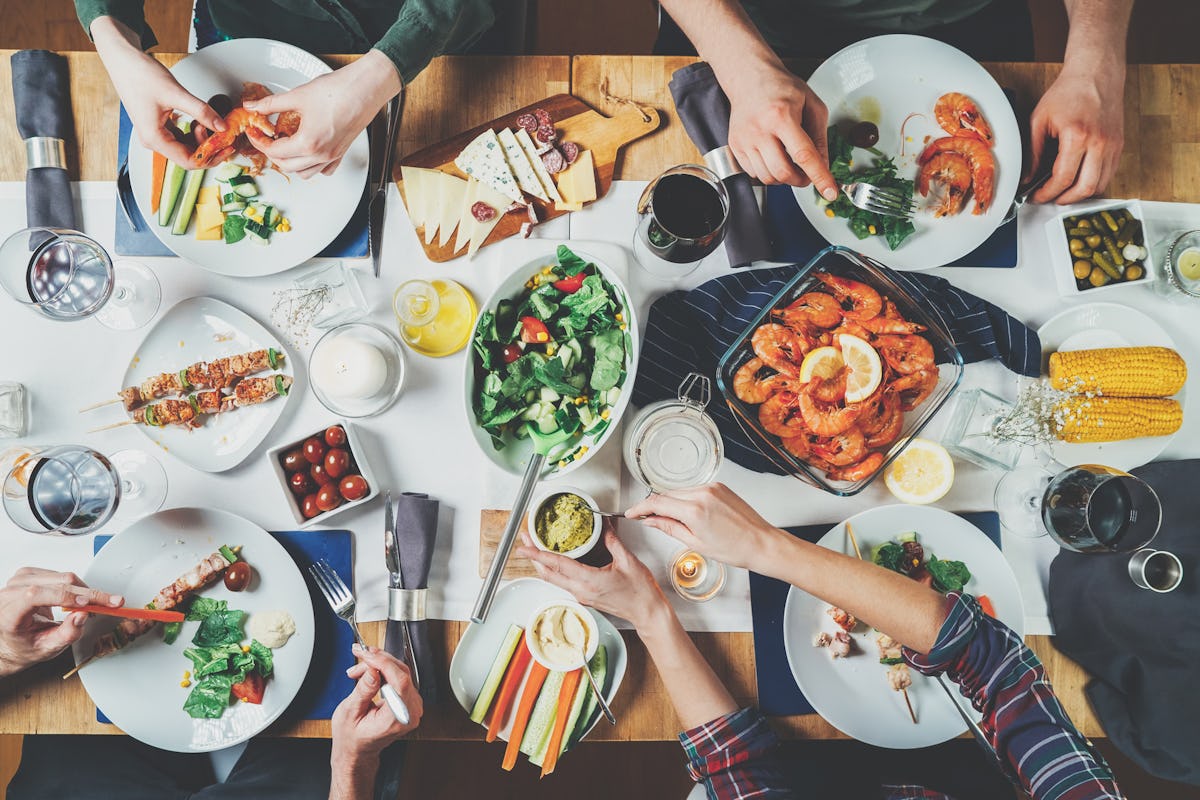 8 Friendsgiving Party Ideas That Are Simple & Instagram-Perfect
iana_kolesnikova/Fotolia
Whether or not you celebrate the Thanksgiving tradition, there's no reason not to have a special night dedicated to your amazing friendships and the people who make them possible. Millennials are making "Friendsgiving" a tradition, and the world is loving it. If you're hosting a Friendsgiving dinner this year, you may want to take a look at these Friendsgiving party ideas so you'll have the time of your lives.
Pinterest is full to the brim with endless party ideas for your next Friendsgiving dinner. You can find ideas for all of your recipes, decor, and anything else you may need, but you don't have to do it all yourself. Friendsgiving is all about friendship and giving, so your friends will be sure to give you a hand in putting the big day together.
You and your buds will eat, drink, and be merry, and before you know it, you'll make some of the most precious memories you'll ever have together. And it's all thanks to you and your amazing party planning skills. Be warned though, your party will be a hit, so you're sure to host again next year. Here are eight Friendsgiving party ideas that are super simple and Instagram-perfect.
1. Have A Fun Dress Code
If you want to have an extra laugh or two (or 20), try out a silly dress code. Instead of dressing up on Thanksgiving, try out a pajama or costume theme. You'll be comfy and laughing in no time.
2. Send Out Cute Invites
If you want to establish your stylish Friendsgiving aesthetic before the big day even begins, you can send out handmade (or store bought, I won't judge) invitations to your special group of friends. Paper invitations are a little old-fashioned, which is exactly why you should send some. Your mom will be so proud.
3. Create Your Own Mixtape
If you want to make your Friendsgiving get-together super memorable, create your very own mixtape for you and your buds. You'll have jams to dance to, jokes to laugh at, and memories to reminisce over. If you're able to make copies of your tape, hand them out as favors at the end of the night.
4. Decorate With Your Fave Photos
For a super personal touch, you can use your favorite photos of you and your squad to decorate your Friendsgiving table. Adding some fairy lights will help set a party mood. Not only is it super cute, but it'll be a great conversation starter for everyone.
5. Keep Your Drinking Classy
At first glance, all you see is a pretty Friendsgiving table. If you look a little closer, you'll notice that each place setting includes a mini red Solo cup shot glass. Classy yet funny — exactly how it should be done.
6. Create An Adorable Photo Backdrop
You need just a few materials to make your very own photo backdrop for your party. A tinsel table skirt, or even a cut up plastic table cloth will create a cool texture for you to pose in front of. If you want to go all out, spell out "Friendsgiving" in mini balloons, and you're ready to snap away.
7. Spice Up Your Pumpkin Pie
A pumpkin pie is a Thanksgiving classic, but Friendsgiving deserves a special twist on the ordinary, don't you think? Instead, something like a pumpkin meringue pie will give you and your BFFs something new to savor while still enjoying a classic autumn favorite. Meringue can be tricky to make, so leave this recipe to the Gordon Ramsay of your squad.
8. Make It A Potluck
To make things a little easier on everyone (but especially on the host or hostess) make your Friendsgiving meal a potluck. Have everyone bring their favorite traditional or unique dish for the entire group to try. Just make sure to have everyone communicate so you don't end up with 10 pies and no salad. Actually, that wouldn't be so bad...
Check out the entire Gen Why series and other videos on Facebook and the Bustle app across Apple TV, Roku, and Amazon Fire TV.