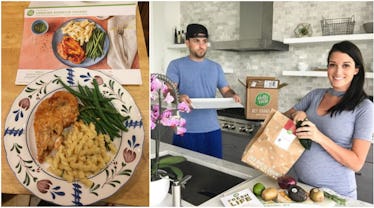 I Tried The Food Service 'Bachelor' Stars Love & It Seriously Lived Up To The Hype – EXCLUSIVE
Courtesy of Kristen Perrone / Jade Tanner on Instagram
I can't be the only one who is strangely intrigued by the post-show lives of Bachelor alums. Nowadays, you don't have to walk away from the franchise with a glittering Neil Lane ring to reap all the possible benefits. Teeth whitening products and Sugar Bear Hair vitamins have become the stuff of jokes in Bachelor Nation, but to me, former contestants' posts promoting food service HelloFresh seemed a tad different — were the meals worth it? How do the recipes fit a college student or young adult's lifestyle? What is it about these boxes that gets Bachelor stars hooked? This HelloFresh review focuses on the simple, accessible approach to cooking that may draw in those busy TV stars.
When HelloFresh got in touch with me, I jumped at the opportunity to embrace the Bachelor star lifestyle and see if the meal prep kits were worth the price for someone still in school or just starting out in the real world. In the past, Bachelor franchise stars such as Ashley Iaconetti, Jade and Tanner Tolbert, and Wells Adams, all of whom definitely represent different stages of adult life, have supported the company.
While any devout member of Bachelor Nation may think that it's only franchise contestants appearing in HelloFresh ads, the company's partnerships go far beyond this bubble. A spokesperson for HelloFresh tells Elite Daily:
The Bachelors and Bachelorettes are not our only partners — we work with a range of personalities for partnerships. We focus on collaborating with people who are in similar life stages to our customers... whether they're looking to make the next step in their life like to those on The Bachelor, or couples who about to get married or live together.
HelloFresh also counts public figures such as Mandy Moore among its partners. If something's good enough for Rebecca Pearson, it's definitely good enough for me!
I chose to receive three meals each from the Classic food plan and the Veggie food plan. For the veggie plan, the three vegetarian recipes scheduled for that week are automatically shipped to your door and you don't choose which meals are sent to you. However, for the Classic plan, you can select two, three, or four menu items on a weekly basis from a list of eight possible recipes. There is also a Family plan option, which sounds ideal if you live in an apartment with several friends or have a family of your own. Wanting to select the least time-consuming meals that a busy young person was most likely to make, I made sure to request three Classic meals involving chicken, pasta, and a "fancy" meat.
Once you have your meals selected, you pick a day for the entire week's ingredients to arrive at your home. Recipe packages arrive in insulated boxes with blocks of ice keeping fresh ingredients cool, so the food really does live up to the company promise of using prime ingredients. Detailed recipe instructions are also printed on high-quality cards that can easily be saved and used later to recreate a certain dish.
Both the Classic and Veggie plans run at $9.99 per meal, resulting in a total of $59.94 for three two-person meals. The Family plan is $8.74 per meal, marking a grand total of $104.88 for three four-person meals. The full HelloFresh recipe archive is also available online, meaning that even after my week of cooking HelloFresh meals, I could find more recipes online to create independently.
A spokesperson for HelloFresh tells Elite Daily:
Our online recipe archive is essentially window shopping for potential customers. They can see the range we offer before signing up and make sure there are recipes they'll love each week. We have a ton of variety, so there's something for everyone!
I'm a recent college grad living with my family, and I also work from home, so factors such as cooking after a long commute didn't apply to me during this experiment. That being said, I think laying out any tools you need for cooking — pots, knives, etc. — before leaving for work that morning would definitely benefit your HelloFresh experience or any cooking experience, really. The recipe cards also list the little things you'd need from your own kitchen, like butter or olive oil, but the box provides everything else otherwise.
Both my Classic and Veggie boxes arrived around 4:30 in the afternoon, and your own boxes will appear anytime between 8 a.m. and 8 p.m. If you're preparing a meal for just yourself, there's also usually a perfect amount of food left over in the two-person meal for lunch the next day.
Night One: Carolina Barbecue Chicken (Classic Plan)
Expected Prep Time: 20 minutes
Actual Prep Time: 45 minutes
Would I recreate it? Yes
I was that kid in elementary school still nibbling away at her sandwich when other kids were diving into pudding cups. I've always eaten slowly and cooked almost as gradually. My slow approach to food, plus getting used to following such a detailed recipe, likely added on to the prep time of this very simple dish.
Finishing this recipe, I learned to trust the quantities pre-measured for use. I'm usually not a mac and cheese fan, so I decided to use only half of the cheese package provided. The result was macaroni that definitely could've used more cheese, so with the exception of keeping a chili pepper out of my barbecue sauce, I committed myself to trusting in those recipe cards.
Other than my cheese flub, I found the dish genuinely tasty, which made me more excited for the rest of the week. The chicken and veggies tasted fresh and held up well the next day for lunch.
Night Two: Lemony Cheese Tortelloni (Classic Plan)
Expected Prep Time: 30 minutes
Actual Prep Time: 46 minutes
Would I recreate it? Yes
Accompanied by pancetta, broiled zucchini, and peas, this pasta dish was easily one of my top three meals. Its combo of lemon, pancetta, and tortelloni was absolutely delicious, and I wish I was able to prepare more of it. I also learned my lesson from the night before and gathered all of my supplies before actually cooking. Apart from getting squirted on by a sour cream package that went awry, the tortelloni was easy to prepare, and I began to pick up on HelloFresh's theme of simple recipes that your mom has probably made in the past.
For example, I don't normally incorporate unique flavors or toppings into my pasta, but after doing so with this dish, I had quite the wake-up call about zesting up ordinary meals. I rarely cook with things like lemon and zucchini, and they added a certain freshness that inspired me to use them more often. After realizing how these meals weren't intimidating at all, I became so interested in searching the company's recipe vault for more food ideas that add something exciting to a very basic, familiar dish.
Night Three: Steak Caprese (Classic Plan)
Expected Prep Time: 30 minutes
Actual Prep Time: 50 minutes
Would I recreate it? Yes
Even though cutting all of the potatoes for this meal took a while, cooking the entire recipe was so worth it. I haven't had steak in forever, and I forgot just how much I love caprese salad. With the exception of the steak, this meal is frequently prepared in our house, but I loved the addition of balsamic. You just can't go wrong with a meat and potatoes combo. The yummy dish also stuck out to me as something so simple that it could be incredibly easy to recreate.
Night Four: Za'atar Grilling Cheese (Veggie Plan)
Expected Prep Time: 30 minutes
Actual Prep Time: 1 hour and 5 minutes
Would I recreate it? No
I had so many questions going into this meal. What is za'atar? What is grilling cheese and why is it the center of the meal? A quick Google search told me that za'atar is a Middle Eastern herb blend, while grilling cheese is literally a block of flavorless cheese that you grill in spices in order for it to pick up flavor. Although the finished dish looked daunting on the recipe card, it actually wasn't too complicated to make.
This was a Hall of Fame recipe, meaning that HelloFresh voters selected it as one of their favorites. The final product was a unique blend of flavors, textures, and spices, but I probably wouldn't make it again. While it was tasty, the contrast between the perfume-like flavors and the squishy grilling cheese was a bit too much for my taste buds to handle. However, the fact that it took four nights for me to find a meal I didn't absolutely love definitely speaks favorably of HelloFresh!
Night Five: Chipotle Chedder Mac and Cheese (Veggie Plan)
Expected Prep Time: 30 minutes
Actual Prep Time: 1 hour and 5 minutes
Would I recreate it? Yes
Because I had burned some veggies on the broiler earlier this week, I was nervous about following the exact time recommended for the top layer of this yummy mac and cheese dish to melt. My cheese mixture also never quite bubbled as the instructions predicted, so both of these factors led to a final version that probably wasn't as cheesy as possible. Still, the recipe totally made me a convert to loving well-prepared mac and cheese. The top layer of toasted panko and cheese gave the dish a tasty crunch that I think more mac and cheeses need. The subtle chipotle kick also added more to the cheesy flavor, which I appreciated.
Night Six: Caramelized Shallot Risotto (Veggie Plan)
Expected Prep Time: 50 minutes
Actual Prep Time: 1 hour and 2 minutes
Would I recreate it? No
This was actually a very quick recipe to put together, but the risotto has to sit and cook for awhile, which actually meant downtime in the kitchen. Again, this was a meal very reminiscent of what my family would cook anyways, but this particular combo of risotto, zucchini, and shallots wasn't very filling. The risotto may have been a miss in that aspect, but I still enjoyed the taste of the heavy risotto and the pairing of the shallots and zucchini.
Conclusions
Overall, I found HelloFresh to be perfect for people to try out when they're in a cooking rut or if they're unaccustomed to cooking for themselves. If you genuinely find grocery shopping a burden, ordering HelloFresh would bring you recipe essentials without the hassle of fitting shopping into your schedule. I can totally understand why Bachelor stars who are frequently traveling use the service.
If the boxes are too expensive for your budget, then the online recipe archive allows for you to participate in HelloFresh meals without the direct delivery. I will definitely be doing this in the future, especially because I have the time to grocery shop and find the specific products I like. While I don't necessarily have the budget to frequently order HelloFresh boxes, I genuinely feel excited about following its recipes for more cooking experiments. According to what HelloFresh told me, meal options other than dinners could also be in the works, which could be great for people who often have to eat on the go.
The HelloFresh experience is definitely worth the price if you have the means, and even if you don't, I would definitely recommend searching online for recipes you'd enjoy. If you're looking for more information, visit the HelloFresh website.