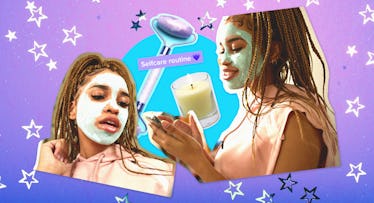 These Self-Care TikTok Videos May Inspire You To Revamp Your Routine
Getty Images
Establishing a self-care routine that works best for you doesn't have to be a struggle, thanks to one of the latest trends taking over TikTok. TikTokers are posting self-care routine videos that may inspire you to revamp your "me time" at home. Ranging from exercises to DIY crafts, you might find something that easily checks off your unique self-care needs.
If you're not scrolling through your "For You" or "Following" pages, you're probably on the "Discover" section scoping out what's currently trending. This is a great place to explore new recipes and workouts, but under the #SelfCareRoutine is where all these amazing how-to's exist. The hashtag has over a billion views, which comes to show how important a self-care routine is and why now may be the prime time to give yours a mindful update.
Since everyone's routine is unique to themselves, you'll notice there are a variety of videos to see. Some people have posted their early morning stretches, DIY beauty projects, and easy-to-follow snack recipes. Whatever you're on the lookout for, it's most likely under this hashtag. But alas, scrolling through video after video can be extremely time consuming. To help you kick things off, these self-care TikTok videos are some highlights of what's out there.