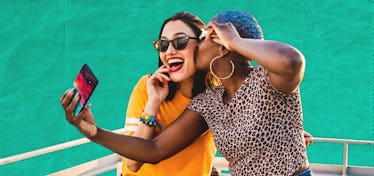 TikTok's Date Night Challenge Gives Dinner & A Movie A Surprising, Fun Upgrade
Stocksy
It's date night, and it's your turn to come up with the game plan. You could opt for the classic dinner and a movie situation, but you're in the mood to spice things up. If you've been scrolling through TikTok lately, you may have noticed something sweet on your "For You" page. TikTok's date night challenge is the upgrade you and your partner should check out for a really fun time together.
Staying in has become the new norm, due to the ongoing coronavirus pandemic. If you're not playing Animal Crossing, catching up on a juicy read, or brushing up on your banana bread skills, you might find yourself watching TikTok video after TikTok video. You know there are plenty of dance, pet, and even workout challenges you can try on the app. But, the date night challenge is something new you can do with your partner. Essentially, it has all the elements of a classic date night — dinner and a movie — but with a surprise component to it.
Don't fret, because there is no choreography to nail down. All you need to do is take a quick trip to the store with your partner, and follow these five steps.