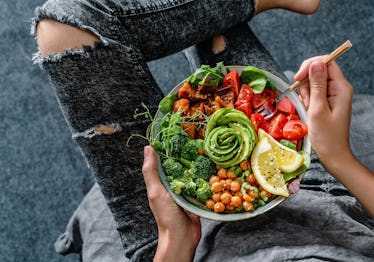 People Are Making Avocado Roses On TikTok That'll Elevate Your Next Snack
Shutterstock
Sure, you've likely enjoyed avocado toast before, but now it's time to stop and smell the roses — avocado roses, that is. This gorgeous food trend has people making their avocados look like roses, and it's been sprouting up on your feed. It's officially time to learn how to make the avocado roses from TikTok for yourself, so you can stop admiring other people's dishes and try some of your own.
For something so pretty, you would think it would be difficult to master and pretty time-consuming. But that's not the case here. To achieve the perfect bloom, all you need to do is slice your avocado, spread it out, and roll it up to form the rose shape. It's that simple, and knowing how quick it is to make, you'll never want to eat just a regular sliced avocado again.
Enjoy your avocado rose by itself with some olive oil, salt, and pepper, or elevate your go-to breakfast dish with a little rose on the side. If you want to make truly Instagram-worthy food at home, follow along with any of these simple avocado rose tutorials from TikTok. Get creative with how you enjoy your favorite snack, and have a budding good time.