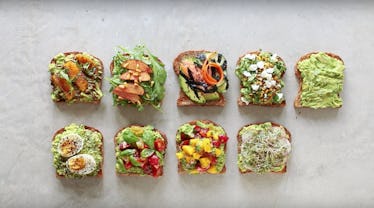 12 Easy Lunch Recipes That Are Tasty & IG-Worthy
It's never too late to enhance your skills in the kitchen. All you need to kick things off are the right ingredients and some easy lunch recipes for beginners. Everyone has to start somewhere, so now is your time to shine and become the chef you've always dreamed of being. Not only can you learn how to make some delicious meals with YouTube recipes, but your plates can be colorful and totally Instagram-worthy, too.
Nailing down some quick and easy lunch meals is the first step. After all, lunch is probably the meal you look forward to the most during your work from home day. With some of these 12 easy-to-follow recipes, you can make yourself some gorgeous lunches that you'll want to share with your friends and use to impress your coworkers. The first step is deciding on what you want to eat. It could be something healthy like a salad filled with all your favorite vegetables, or a nostalgic classic like homemade mac and cheese.
Whatever you decide to whip up in the kitchen, just remember presentation is key. That way, you can take a killer pic for the 'Gram. The comments and likes that start rolling in will taste even sweeter knowing that you made that meal all by yourself.