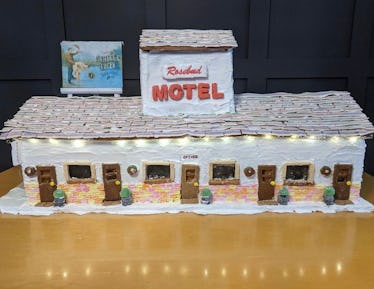 These 'Schitt's Creek' Gingerbread Houses Are The Total Opposite Of "Ew"
Schitt's Creek fans have been very busy creating gingerbread houses inspired by the Rosebud Motel, and they're a sight to see. They take the holiday tradition to an entirely new and tasty level, with candies sunk into white frosting to resemble bricks, and gumdrops that look like bushes. Long story short: These Schitt's Creek gingerbread houses are the total opposite of "ew." They're actually quite the Schitt.
They stand out like one of David Rose's sweaters or Moira Rose's eclectic outfits, with their strips of lights and fancy candy signs. If you pranced into your kitchen and saw one on your counter, you'd probably point at it in awe. If you're also a fan of Schitt's Creek, the incredibly funny Netflix show that has taken the world and award shows by storm, then you will be sure to pick up on the tiniest details right off the bat.
These gingerbread houses inspired by Schitt's Creek really don't miss out on anything, including the trendy Rose Apothecary store and the lights under the motel awning. Most are paired with a witty Instagram caption quoting iconic phrases from the show like, "Simply the best." Check them out here, and snag some inspo for your very own gingerbread house competition.