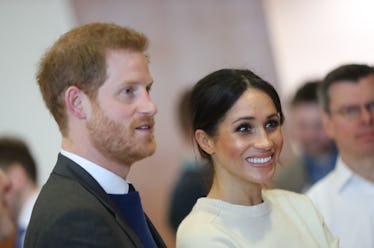 Prince Harry & Meghan Markle Missed The Royal Easter Service, & Here's Why
Pool/Getty Images Entertainment/Getty Images
April 1 marks the Easter holiday, and while some of us just use it as an excuse to eat chocolate and marshmallows, others take it a little more seriously. While the holiday is usually a family affair, these photos of the royal family's Easter service is missing some familiar faces this year. While some royals visited St. George's Chapel for the holiday, soon to be newlyweds Prince Harry and Meghan Markle apparently decided to skip the Easter service this time around.
While the rest of the royal family attended an Easter service at St. George's Chapel in Windsor Castle, the very place where Markle and Prince Harry will exchange vows on May 19, Markle and Prince Harry's Easter plans were "private," their spokesperson told The Guardian. The likes of the Queen, Kate Middleton, Prince William, Princess Eugenie, and others were present at the service. Prince Philip, who retired from public duties last year at age 96, was also not at the service.
Instead, a new face was seen during the Easter service: Jack Brooksbank, who is engaged to the Queen's granddaughter, Princess Eugenie, attended St. George's Chapel for the first time. The couple plan to get married in the fall, according to their engagement announcement.
Even though Markle and Prince Harry didn't attend the service, I have no doubt their Easter was just as lovely. Perhaps it was spent discussing final wedding preparation tweaks? With their wedding date coming up so fast, I'm not really surprised that the couple decided to opt out of the service this year.
Although some royals who were there were the Duke and Duchess of Cambridge themselves, Prince William and Kate Middleton. It's almost surprising that they made the appearance, considering that Middleton is very, very pregnant and coming up fast on her April 2018 due date.
With babies and weddings coming up in the next few months, can you blame me for being completely obsessed with the royals?
Because Windsor Castle may host beautiful Easter services, but it's a beautiful spot for a royal wedding too. On May 19, Windsor Castle will transform into a beautiful and romantic venue to host Markle and Prince Harry's wedding. It's sure to be one of the biggest events of the year. This wedding is expected to be a bit more low-key than ones in the past, but judging from the details we've heard so far, it's still going to be absolutely incredible.
The couple announced their engagement on Nov. 26, 2017, and since I've been hanging on every detail released about the special day. We've so far got the skinny on the invitations, wedding party, and Markle's dress, but I need to know more. A source told US Weekly on Jan 2 that the wedding is going to be quite the family affair, and that the couple wants to involve family members in the wedding as much as possible.
The source said,
The day of the wedding itself will certainly hold a few unconventional surprises. Don't expect a royal wedding by numbers. They want to involve their friends and family as much in as much as possible throughout the day.
While royal weddings are typically traditional affairs, Markle and Prince Harry have a few new ideas to bring to the wedding altar. We already know that a few unconventional surprises will be taking place during the royal ceremony. For one, Markle plans to have her mother walk her down the aisle. Plus, the bride plans on delivering her own speech at the wedding. Both of these traditions are usually duties given to the bride's father. This couple is all about breaking tradition, and the wedding details prove that. I, for one, am completely on board.
Even though Markle and Prince Harry's wedding is one of the most anticipated events of the year, they're not the only couple being married at Windsor Castle in 2018. Princess Eugenie and Jack Brooksbank will be married in St. George's Chapel in the Fall. Princess Eugenie is the daughter of the Duke and Duchess of York, aka Prince Andrew and his wife, Sarah Ferguson. The couple's engagement was announced on Jan 22 via a public statement from the Duke and Duchess of York. Back to back royal weddings? Talk about keeping the party going.
Even though Markle and Prince Harry couldn't make Easter service, we'll definitely be seeing them at St. George's Chapel soon enough.