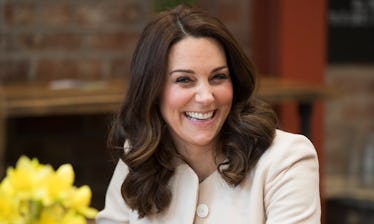 This Tiny Detail Might Prove Kate Middleton Is Giving Birth Soon & It's So Obvious
WPA POOL/GETTY IMAGES ENTERTAINMENT/GETTY IMAGES
I think it's pretty safe to say that when it comes to the arrival of the next royal baby, all of us are on the edge of our seats in anticipation. However, Kate Middleton and Prince William have pretty much kept their pregnancy under wraps this entire time. Not that I blame them, but c'mon. There's so much going on with the royal family that we can't help but want an inside scoop on things. But even though the two remain mute on the subject, perhaps we just got the sign that we've been waiting for: The hospital Kate Middleton will give birth at dropped a clue about her due date, and it looks like the royal baby might be here sooner than we expected.
According to Travel + Leisure, the Lindo Wing at St. Mary's hospital (where Middleton will give birth) did a bit of a renovation: It repainted the railings outside of its building. OK, I get that that might not seem so alarming at first, but the catch is that the hospital is also where she gave birth to Prince George and Princess Charlotte, which kind of makes this renovation seem more deliberate and celebratory than serendipitous.
A photo of the painted railings was shared on Instagram with the caption, "ROYAL BABY ALERT. THE RAILINGS OUTSIDE THE LINDO WING ARE BEING PAINTED! ITS HAPPENING GUYS!"
My guess is that the hospital is sprucing things up because the paparazzi will be front-and-center with their cameras after Middleton gives birth. After all, we know how major the arrivals of her two other children were for royal baby watchers.
This is the second clue about Middleton's due date.
In October 2017, the Kensington Palace shared a statement that announced the royal couple would be expecting a baby in April 2018. It read, "The Duke and Duchess of Cambridge are delighted to confirm they are expecting a baby in April 2018."
However, any further details were basically left up to our imaginations.
The first major clue surrounding the royal baby's due date came on March 22, when the Duchess of Cambridge stepped out for a final day of work before she went on maternity leave. She spent the day celebrating the Commonwealth alongside her hubby Prince William, looking A-M-A-Z-I-N-G and sporting a beautiful, shapely baby bump. Women can go on maternity leave up to 11 weeks before their baby's due date, but considering that Middleton took hers around a month before Prince George and Princess Charlotte were due, many of us guessed that her baby would arrive at the end of April. Hello! magazine supported those guesses, suggesting that Middleton's due date was, in fact, April 23.
The royal couple has everything planned to "the tiniest detail."
Per Us Weekly, the suite that Middleton will give birth in has been on lockdown since mid-March. A source told the publication, "Security does regular sweeps of the room, then it's resealed each time with tamper-proof tape. It's a high-security operation. Even the crawl space above the room is checked regularly."
Obviously, Middleton and her baby team — which reportedly includes her mother, Carole — have everything planned to "the tiniest detail." The team "is dedicated to making sure everything is ready, from media plans to security to hospital arrangements," according to the source. "There's a backup plan for everything."
After Middleton goes into labor, she and her hubby will reportedly drive from Kensington Palace to the hospital, which the publication noted as just a mile-and-a-half trek. "The hospital will get only five minutes' notice ahead of Kate's arrival," the insider continued. The timeline is to "prevent anyone being tipped off that she'll be leaving home." The source added, "And because everything is organized so precisely, the hospital can handle such short notice."
This thing gets realer by the day, so their baby will be here before we know it! Or at least I hope so. I really can't take this anticipation much longer.