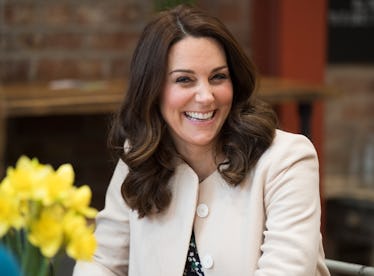 Kate Middleton's Last Appearance Before Maternity Leave Gave Us A Clue About Baby No. 3
WPA Pool/Getty Images Entertainment/Getty Images
We already know Prince William and Kate Middleton are having a spring baby. After all, the couple confirmed back in October that they are expecting a new addition to the family in April. But now we may have an idea about when in April it's all happening, you guys! Kate Middleton's last appearance before maternity leave just gave us a major clue about when we can expect baby number three to arrive on the scene, and I am so, so hyped!
Here's the deal: Thursday, March 22, was the Duchess of Cambridge's last day of work before she went on maternity leave. She stepped out for her final public outing looking super stylish as usual in her cream coat, skinny black pants, and adorable growing bump. Women are allowed to go on maternity leave up to 11 weeks before their baby's due date, but since Kate 86-ed her royal duties with both Prince George, who's 4, and Princess Charlotte, who is now 2, about a month before she was due to give birth, chances are she'll go the same route this time around. Which means the baby should arrive at the end of April! That's only one month away, and it really can't get here fast enough!
So how did the Duchess spend her last working day? By attending a bunch of engagements celebrating the Commonwealth. For starters, she and Prince William spent the morning at London's Olympic Park, with a visit to SportsAid, a charity that helps encourage British Paralympic athletes. First, they watched a wheelchair basketball game, and then they met with some of the athletes who hope to compete in the 2022 Commonwealth Games, which will take place in Birmingham, England.
The couple also joined the athletes and coaches in a Commonwealth quiz.
And later, the Royal pair took part in preparations for the Commonwealth Big Lunch at St Luke's Community Centre in London. The Centre hosts a Big Lunch every year in order to encourage as many people as possible to have lunch with members of their community, while sharing food and encouraging friendship.
I am loving those aprons! These all sound like pretty amazing endeavors, but TBH, I am exhausted just hearing about how the Duchess packed all of this stuff into one day — and I'm not the one who is currently eight months pregnant! How on earth does she do it?
And can we just talk about how amazing she looks for a second? Kate's attire on her last day was both sleek and elegant — and bonus points for strutting around in those heels, mama! If this isn't just the definition of #MaternityStyleGoals right here, then I don't know what is.
Seriously, though, Kate just seems so incredibly glowy and happy, and I am really excited for her to give birth again. Oh, and guess what? Baby number three already has a page on the royal website! Sure, it basically just says "The Duke and Duchess of Cambridge's third baby" at the top, then gives visitors a quick recap of the pregnancy and tells them they can also follow along with the royal family on Kensington Palace's Twitter account. But I can't wait to see what the future hold for this web page! After all, Prince George's page is filled with social media updates and the most adorable pics of the little guy. Ditto for Princess Charlotte. So I can only imagine all the amazing details we will get on the third baby's page, once he or she finally arrives.
One. More. Month! Until then, I'll just be over here like: