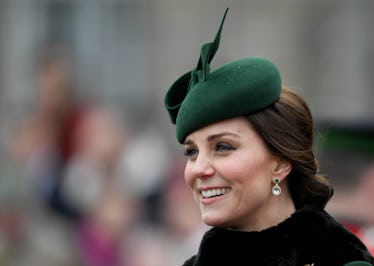 Kate Middleton's Third Baby Is Already On The Royal Website, & I'm So Hyped
WPA Pool/Getty Images Entertainment/Getty Images
It's no secret that pretty much everyone is obsessed with anything related to the British royal family — especially when there are little royals involved. The Duke and Duchess of Cambridge already have two adorable little royal babies, and we have a third one along the way. And we know that the newest addition to the family is coming up soon, because Kate Middleton's third baby is already on the royal website. And yes, I will be checking that webpage routinely until the new baby is born — because I need all of the details the moment that they happen.
There's nothing on the future prince / princess' webpage yet, but I know I'm not alone when I say that I'm already super hyped for more details. I especially love the younger members of the royal family, and I love keeping on top of everything that's going on in their lives. The media and the world love to eat up anything related to this elite family — so when we all know that there will be a new member joining soon, everyone gets very excited. Back in September 2017 Middleton and Prince William announced that they are expecting for a third time, and we haven't really gotten any more information.
The official statement from Kensington Palace on royal baby number three read as follows,
Their Royal Highnesses The Duke and Duchess of Cambridge are very pleased to announce that The Duchess of Cambridge is expecting their third child. The Queen and members of both families are delighted with the news.
Other than that announcement, we haven't really gotten any more information about the pregnancy. But we do know that Middleton is due sometime in April 2018, which we learned a month after the pregnancy was announced.
So we're officially a month or so away from the arrival of royal baby number three, and Kensington Palace is preparing themselves for all the media hoopla that is sure to follow. So yes, I will routinely be checking that page so I know everything that's going on with the baby the moment that it happens.
Obviously there's nothing on the webpage yet, but it's clearly the place to go with the most up-to-date information regarding the future royal. The site also encourages anyone interested to follow the Kensington Palace official Twitter account if you want to be in the know.
In the meantime, there's plenty of other royal family content to eat up. There are pages set up for the couple's other two children, Prince George and Princess Charlotte, and if you explore either of those two pages you'll find all official photos of the little royals that Kensington Palace has released to the public, and all social media accounts linked as well. You can basically relive the lives of these two little royals from the moment that they were introduced to the world until now.
But there is one other page that's not yet been added to the royal website that everyone is definitely waiting for, and that's the addition of Meghan Markle. She and Prince Harry announced their engagement in November 2017, and their upcoming nuptials are happening very soon in May of this year. And I can't wait to watch that wedding and find her page up on the royal website.
So there's a ton of royal family news to look forward to this year already, and I will be here for all of it. Spring cannot come soon enough, and not just because I'm sick of the cold and the snow. Until then, you can find me clicking the refresh button on the royal baby's webpage daily until the little one arrives.