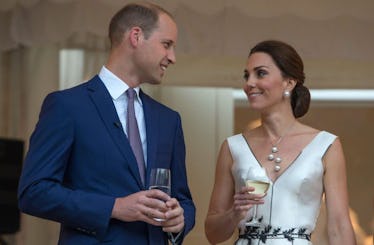 When Is Kate Middleton Due? Everything We Know About The Royal Baby
Julian Simmonds-Pool/Getty Images
Honestly, no one talk to me for the next nine months because I'm on royal baby watch. It was announced on Sept. 4 that Kate Middleton and Prince William are expecting their third child. Besides being the cutest family ever, I think The Duke and Duchess of Cambridge are the most fascinating people on Earth. Adding another person to the family is just one more person I can spend my time obsessing about. So, when is Kate Middleton due? Good question. I did some investigating. Although the due date has not been announced yet, there are a couple of educated guesses.
Update: We now know when Kate Middleton is due. Kensington Palace announced on Twitter, "The Duke and Duchess of Cambridge are delighted to confirm they are expecting a baby in April 2018."
Earlier: Most couples wait until at least 12 weeks to announce their pregnancy. If William and Kate are like most normal people, that would put the due date sometime in March 2018. However, there's one clue in the official statement released by Kensington Palace that alludes to the idea Middleton may be earlier in her pregnancy. The statement says,
Their Royal Highnesses The Duke and Duchess of Cambridge are very pleased to announce that The Duchess of Cambridge is expecting their third child. The Queen and members of both families are delighted with the news.
As with her previous two pregnancies, The Duchess is suffering from Hyperemesis Gravidarum. Her Royal Highness will no longer carry out her planned engagement at the Hornsey Road Children's Centre in London today. The Duchess is being cared for at Kensington Palace.
"Hyperemesis gravidarum" is a severe form of morning sickness that causes nausea, vomiting, weight loss, and dehydration. Not pleasant, but the symptoms usually lessen about 20 weeks into the pregnancy. This is leading people to assume Middleton is early in her pregnancy — likely less than three months. If this were true, that would put her due date sometime in April 2018. More than likely, we can expect a spring baby.
Ugh, I honestly can't wait. I love the royal fam. They are so amazingly beautiful and fabulous (sorry, Kardashians) and always publically support each other. People were expecting Prince Harry to be salty about the pregnancy. A third child for William and Kate will bump him back to sixth in line for the throne. British paparazzi caught Harry leaving his car Monday morning. When asked about the royal baby news, he responded, "Fantastic. Great. Very, very happy." Seriously, Harry didn't really stand a chance for the throne, anyway.
Overall, it looks like I'm not the only one excited about a royal baby. Now, please excuse me while I catch up on The Crown and peruse Twitter for updated baby news.