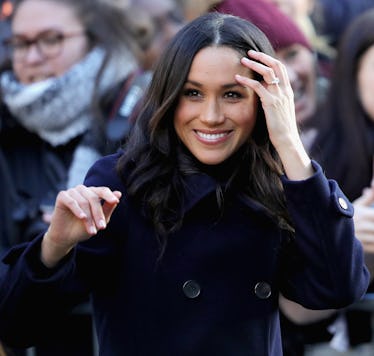 These Photos Of Royal Engagement Rings Will Make You Say Yas, Queen
Christopher Furlong/Getty Images Entertainment/Getty Images
Meghan Markle and Prince Harry announced their engagement on Nov. 27, 2017, and I've been obsessed with them ever since. The only thing more picturesque than the couple themselves is Markle's engagement ring, and while it's indeed stunning, these photos of royal engagement rings from other royal couples are equally breathtaking.
Markle's engagement ring was designed by her fiancé himself and has a beautiful story behind it. Prince Harry worked with Cleave Court Jewellers to design the ring and sourced the main stone from Botswana. The southern African country is a special place for Harry; it was an escape for him after his mother Princess Diana's death, and he took Markle there just before he proposed. Perhaps he snuck off to take a look at the diamond while the two were on holiday there? Who knows. The two side stones on Markle's ring are from one of Princess Diana's personal brooches, which demonstrates just how special Markle is to Prince Harry.
While the royal family hasn't confirmed how much Markle's ring is worth, jewelry expert Sophie Lomax of 77Diamonds.com estimates it to be valued around $66,000. I think all the jewelry I'll ever own will never add up to that much. Sigh. But a girl can gawk, so shall we?
Meghan Markle
Markle has been showing off her cushion cut center stone ring and those invaluable side stones from Princess Diana's personal collection. Prince Harry clearly put a lot of thought into Markle's trilogy style engagement ring, but it's not even the most extravagant royal ring out there.
Princess Diana of Wales
Prince Harry's mother, Princess Diana, divorced his father, Prince Charles, in 1996 after nearly 15 years together. During their marriage, Diana wore her sapphire engagement ring and it was a serious showstopper.
The ring has a 12-carat blue sapphire surrounded by 14 white diamonds and is set in 18 carat gold. When Diana got engaged to Prince Charles in 1981, the ring was worth almost $40,000, which would be approximately $110,000 today when counting for inflation, however that doesn't account for the immense historical value of the piece.
Kate Middleton
After Princess Diana's tragic death in 1997, the ring was out of the public eye for a while, but Prince William brought it back when he used it proposed to Kate Middleton! Middleton is now officially known as Catherine, Duchess of Wales, and rocks this pricy ring with ease.
Camilla Parker Bowles
Prince Harry's father, Prince Charles, remarried in 2005 to Camilla Parker Bowles, Duchess of Cornwall.
Bowles' not-so-tiny ring used to belong to Prince Charles' grandmother and has a large emerald cut diamond in the center with three baguette diamonds on each side, amounting to seven stones in all. Jewelry experts have guessed it to be worth around $225,000.
Princess Eugenie
Princess Eugenie's engagement to Jack Brooksbank was announced on Jan. 22, 2017, after six years of courting.
Princess Eugenie's ring has a padparadscha sapphire, a rare (read: expensive) pink stone, surrounded by 10 brilliant-cut diamonds and two pear-shaped diamonds. The ring is guessed to be worth around $140,000 — that's double the price of Markle's ring! Eugenie's jewelry also resembles her mother Sarah Ferguson, Duchess of York's ring, which you can peep here.
Zara Phillips
Zara Phillips is another one of the queen's eight grandchildren, and is cousin to Princes Harry and William as well as Princess Eugenie.
Phillips married rugby player Mike Tindall in 2011, and despite neither of them having a royal title, Phillips' ring looks just as valuable as that of her cousins. It has a single, round cut diamond with a double band covered in small, pavé diamonds.
Now I wait until Markle and Prince Harry's wedding on May 19, 2018, so I can see her wedding band and her dress!