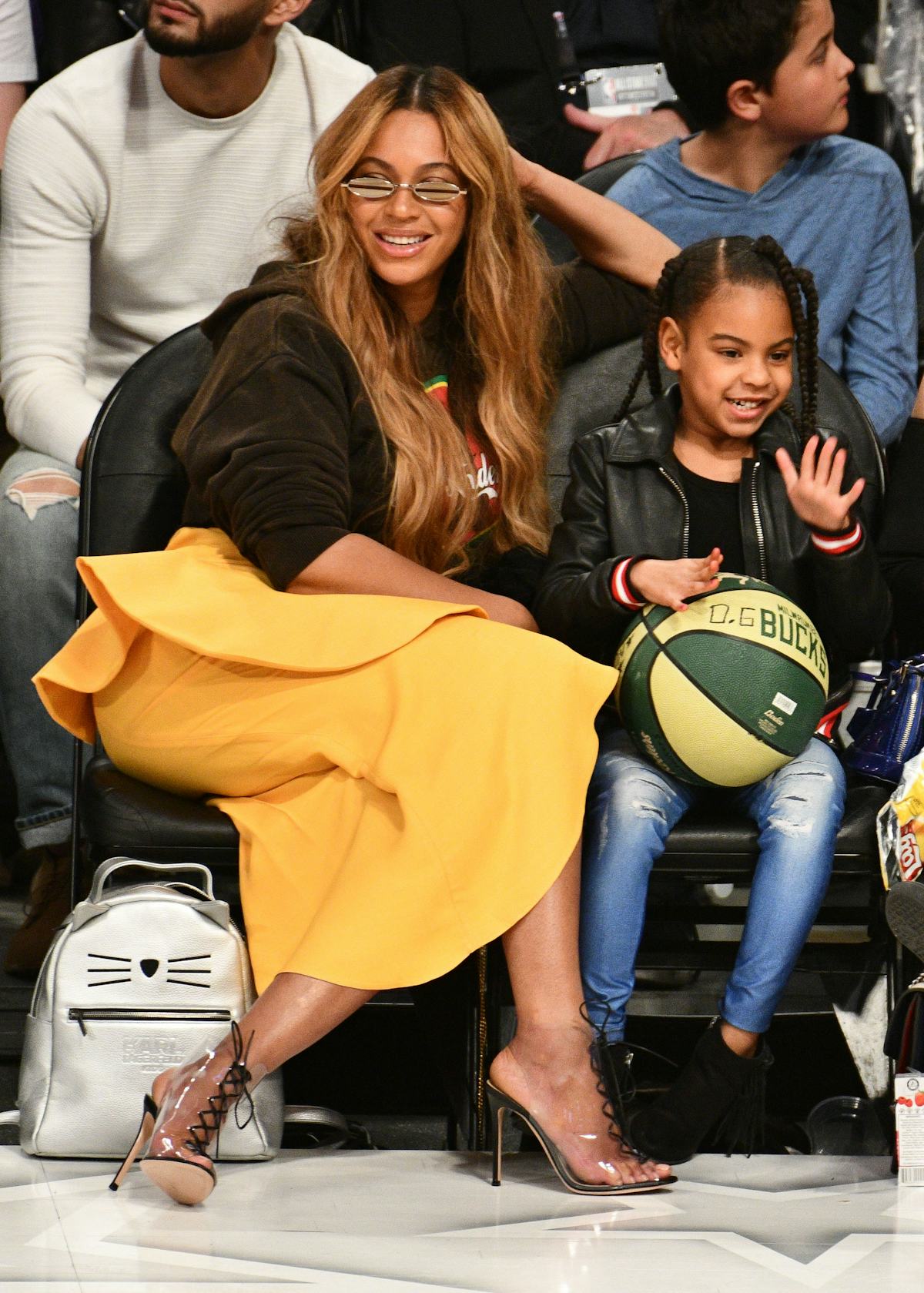 These Photos Of Beyoncé & Blue Ivy Taking Selfies Are Serious Mother-Daughter Goals
Allen Berezovsky/Getty Images Entertainment/Getty Images
I think my mom and I are pretty cool. We get along, we tell each other secrets, we go shopping. Ya know, the usual mom-daughter stuff. Just when you think, "Man, I have a pretty awesome relationship with my mother," photos of Blue Ivy and Beyoncé taking selfies together pop up and suddenly you're like, "WTF, Mom? Why can't you be more like Beyoncé?!" The Grammy-award winning artist and her little bundle of joy were sitting courtside at the NBA All-Star game on Feb. 18, and the pictures are such #goals.
In the end, Team LeBron James beat Team Stephen Curry 148-145, but we all know the real winner that night was Blue Ivy's sunglasses. Blue and Bey sat front row with Beyoncé's mom, Tina Knowles Lawson, and took some time to snap cute selfies and ham it up for their iPhone cameras. Beyoncé shined in a yellow dress, clear shoes, and skinny little sunnies. Blue Ivy sported a leather jacket, round sunglasses, and a smile that will fix all of your Monday blues. Blue was also holding a signed basketball, presumably covered in all of the all-star athletes' signatures.
Also, People magazine reports Blue's little, blue purse is actually a $1,820 Louis Vuitton bag, NOT THAT MONEY MATTERS, BECAUSE IT DOESN'T. (Beyoncé and Blue Ivy are the only things that matter!)
Despite the incredibly close and exciting game happening on the court, Beyoncé and Blue were upping their own (selfie) game in the bleachers.
Just look at some of these pics!
Beyoncé: "Girl, get your game face on."
Blue Ivy: "Mom, I got this."
Beyoncé & Blue Ivy: "Cheese, haters."
US: "WE LOVE YOU!" Them: "We know."
I'm assuming Bey sent the pictures off to her hubby, JAY-Z, but maybe she just archived them in her "Slaying" folder. Whatever she did with them, I hope she keeps them forever and drops a few as a #TBT on Instagram in, like, ten years or something.
The public has loved watching Blue grow up, and she couldn't be more of a badass kid. Blue is somehow truly a mix of both her mother's fierceness and her father's cool-factor, and despite her young age of 6, she seems to have a sense of self that most adults are still trying to find. She's appeared in music videos, on her parents' tracks, and has more award show gifs made out of her than most huge celebrities five times her age.
Consider this time she shushed her parents for their apparently outrageous applause at the 2018 Grammy Awards:
Or when she totally stole the show at the 2017 Grammys in James Corden's Carpool Karaoke segment:
Or when she practically revolutionized her mom's "Single Ladies" dance move:
Good lord, I love this baby.
As a little bonus, there's also a video of the All-Star basketball mascots picking Blue up and dancing with her. And listen, I'm not here to tell the mascots how to do their jobs, but my GOD, does this bear have some balls picking up this child.
Can you even imagine the liability factor we're talking about, here???
Blue looks totally comfortable and happy, but my heart is racing the whole video. I'm like, "Please don't drop her. Please don't drop her. I will kill you if you drop her."
Also, look at how jealous and thirsty all the other mascots become.
I'm sweating.
Blue's siblings, Rumi and Sir Carter, have yet to make their big awards show or basketball game debut, but man, I can't wait for that to happen. For now, I'll just print all these pictures out and wallpaper my fridge with them. That's not too much, right?
Check out the entire Gen Why series and other videos on Facebook and the Bustle app across Apple TV, Roku, and Amazon Fire TV.