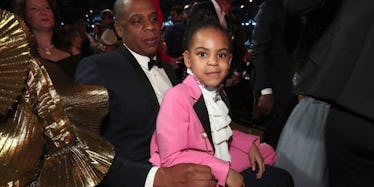 Blue Ivy Stole The Show In James Corden's Grammys Edition Of 'Carpool Karaoke'
CBS
Arguably the best part about James Corden is how human he makes the stars who come on his talk show appear, and how he can hang with seemingly anyone from Justin Bieber to Stevie Wonder to, apparently, Neil Diamond.
And oh yeah, let's not forget his crazy talented singing voice.
On his show, "The Late Late Show with James Corden," one of his most beloved and fun segments is "Carpool Karaoke," where he invites famous singers and musicians on a drive to sing along to their top hits.
As part of his gig hosting The Grammys, Corden decided to throw the most epic "Carpool Karaoke" of all time, inviting Neil Diamond, Jennifer Lopez, Faith Hill, Tim McGraw, Keith Urban, Ryan Tedder and Jason Derulo to join him.
Little did we know, Blue Ivy was about to steal the show AGAIN.
Previously in the night, Blue was featured in her mother Beyoncé's incredible performance (albeit, as a hologram, but who's paying attention to the details) paying tribute to motherhood and childbirth.
So this made Blue's little carpool stunt the second time in 15 minutes all eyes were on her this evening.
Which, THANK GOD, for two reasons.
1) She's Blue Ivy and everything is exponentially better when she's a part of it, and 2) literally no one in that cardboard car knew the words to Neil Diamonds "Sweet Caroline," and we needed the distraction from their growing embarrassment, ASAP.
GUYS, GET IT TOGETHER AND ACT LIKE YOU DO THIS FOR A LIVING.
Actually, don't worry about it. Let's send in Beyoncé's own flesh and blood to save the day LIKE SHE ALWAYS DOES.
Rushing in to sit in the "front seat" with Corden, Blue Ivy was all smiles, exuding more confidence and joy than any of the sorry-for-themselves Grammy nominees and winners hanging their tails between their legs while Neil quietly thought to himself, "You played this song at all your weddings, assholes!"
Ah, Blue. If only you had a platform and resources available to you to soar into super-fame and make millions of dollars to create beautiful things we all will love. Oh wait...