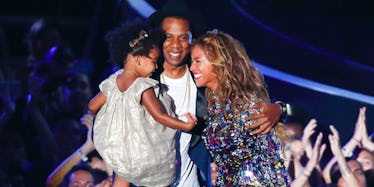 Beyoncé Included Blue Ivy In Her Pregnancy Announcement, But You Def Missed It
REUTERS
No, you weren't dreaming. Beyoncé really did announce her pregnancy to kick off Black History Month on February 1.
The 35-year-old singer took to Instagram to announce she and husband Jay Z would be expecting not one, but TWO new additions to the Carter family.
Do you know what this means? Blue Ivy is going to be a big sister!
This also means we should expect plenty of future musical material from both of these superstar artists about their flawless family.
The Instagram photo, which broke records and racked up over 8.7 million likes, showed Queen Bey kneeling over lush shrubbery as she gently caressed her belly.
The Instagram caption reads,
We would like to share our love and happiness. We have been blessed two times over. We are incredibly grateful that our family will be growing by two, and we thank you for your well wishes. - The Carters
It's official!
But let's take a good look at that photo...
Did you know Beyoncé subtly included her 5-year-old daughter Blue Ivy in the Instagram photo? I bet you didn't! If you look closely, you'll see that the "Formation" singer is kneeling over a bed of ivy.
Above her is a bright, blue sky. Now, you do the math... That's obviously a gracious nod to Bey and Jay's first child!
What is not obvious, however, is if there are any other hints in the photo that may reveal the potential baby names Beyoncé and Jay Z could have in mind.
Not only are there plenty of different flowers and plants to choose from, but there are also a ton of different colors that could help them brainstorm the perfect name for their two twins.
If Blue's name is blue, what would stop Beyoncé from naming her kid purple, pink, yellow or peach?! I rest my case.
Citations: Did You Catch Blue Ivy In Beyoncé's Pregnancy Announcement? (Refinery29)