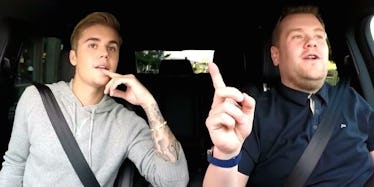 Justin Bieber Nails 'Carpool Karaoke' And Completes A Rubik's Cube (Video)
In the latest addition of "Carpool Karaoke," Justin Bieber took a little joyride with James Corden.
This time, Bieber and Corden sang along to "Baby," one of Bieber's tracks.
Obviously, Bieber and Corden nailed it. I mean, how could they not? During the ride, Bieber also somehow managed to complete a Rubik's Cube surprisingly fast. So that's a thing.
Bieber kind of seemed likable in this clip, and that's no easy feat. See what I mean above.