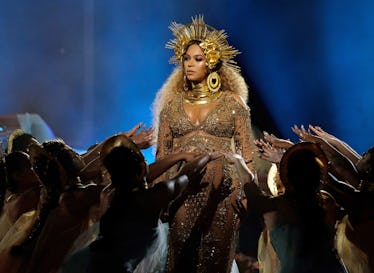 Leaked Photos Of Beyoncé's Twins Are Absolutely Adorable
Larry Busacca/Getty Images Entertainment/Getty Images
While the rest of the world seems to be going crazy, there are a few glorious rays of light in the midst of it all. In these times of turmoil, we are thankful for the things that bring us joy — like the photos of Beyoncé's twins Rumi and Sir that leaked on Saturday, Nov. 11. Blessed be our Queen Bey, and all her bey-bies.
Leaked photos showed the five-month old twins on vacation with mom, dad JAY-Z, and grandma Tina Knowles-Lawson, in Miama, Florida, over the weekend. A handful of shots showed the chubby-cheeked tots wearing onesies while being lugged around by mom and grandma, with Beyoncé's hair in a fabulous crown of braids (which, probably not coincidentally, looks very difficult for small chubby fingers to get hold of).
At least one photo seemed to show little Rumi, wearing an adorable, tiny hair bow and an expression that says, "My mom is Beyoncé, you're going to have to do a lot better if you want to impress me." Another showed Beyoncé cradling one of the twins while wearing a multi-colored leotard and a relaxed expression. Yet another photo showed proud papa JAY-Z hanging out with Bey and one of the twins on an outdoor patio space.
Sadly, our favorite American royalty princess, 5-year-old big sister Blue Ivy, was nowhere to be seen in the photos. (My guess is that she's already off somewhere working on a solo project.)
But we'll take what we can get. The photos are the first chance fans are getting to see the twins since their official debut back in July. After her amazing pregnancy announcement in February of this year, Bey was pretty — well, not chill about it, because she's Beyoncé, but relatively low-key, just, you know, showing up at the Grammys looking like a heavenly mother goddess. When the twins were actually born, sometime in mid-June, everyone was on edge waiting for the first shots. And oh man, did Beyoncé not disappoint.
Beyoncé shared her double bundle of joy via an immaculately posed Instagram on July 14, showing the twins at one month old. The gorgeously staged photo was in the same opulent vein as her pregnancy announcements. Queen Bey does nothing halfway, after all.
Since then, viewings and photos of the twins have been strictly controlled — which is probably why fans were so excited about the leaked pics.
Of course, not everyone was thrilled about it. Some people came to Bey and the twins' defense, pointing out that she has every right to want to keep her family life private, and that it's kind of a jerk move for the paparazzi to spy on the family.
And then there were those whose feelings were... mixed.
Though let's be real, Beyoncé can definitely take care of herself when it comes to publicity. Since the pics leaked, they have apparently been slowly disappearing off the internet, as Beyoncé's team is supposedly demanding they be pulled down from social media. So in short, get your fill of the photos now before they disappear forever.
While no member of the Beyhive wants to disappoint their queen, some fans had other concerns, as well. Namely, would this mean that Beyoncé now would refuse to release approved photos of the twins?
Honestly, I'm not too worried about whether we'll get to see more photos of the twins. With all the attitude we've seen from big sis Blue Ivy, I can almost guarantee you these kids are going to be mugging for the camera like pros — and considering the family genetics, are you really doubting it? The Carter-Knowles family is American royalty, and they have to have their official portraits.