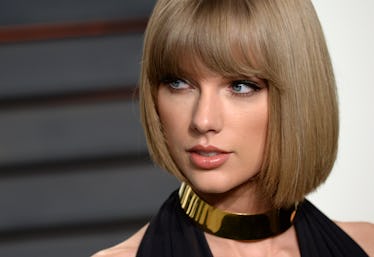 10 Mysterious Song Lyrics That Caused Major Hollywood Drama
Anthony Harvey/Getty Images Entertainment/Getty Images
Drama, drama, drama. The music industry is full of it, but sometimes stars don't want to be too explicit with their comebacks and jabs at fellow celebs. These mysterious song lyrics that caused major Hollywood drama stirred the pot, sparked rumors that spread like wildfire, and ultimately provided the public with some of the most scandalous pop culture moments of the millennium.
Celebrity beefs are a dime a dozen in the social media age where clapbacks can be issued at the click of button. Some artists, however, have decided to use their songwriting abilities to issue some of their harshest criticism of fellow stars. From rap diss tracks to pitch-perfect shade in pop songs, there's been no shortage of A-listers stirring up drama in the public eye through their art.
Old exes and frenemies are often the targets of artists' shade, but rarely do disses end up causing IRL drama outside of a handful of tabloid headlines. The following song lyrics took singers' and rappers' drama one step further, though, and directly impacted fandoms and real-life fueds. Scroll through the top 10 below, and take off your sunglasses to read them — it's about to get shady.
10. Justin Bieber's "Sorry"
Beliebers and Selenators are pretty divided over this one, but the hit 2015 track "Sorry" contained some pretty damning evidence that the song was about Bieber's volatile relationship with Selena Gomez after their breakup in fall 2014.
"'Cause I just need one more shot at forgiveness," he sings in the first verse, a line that had fans pointing to his tumultuous relationship with Gomez as the inspiration for the track. Some fans theorized the song was more generally about Bieber's public apologies for his various scandals over the years growing up in the spotlight, but the pre-chorus pretty much confirmed it was about a former lover: "Yeah, is it too late now to say sorry?/ 'Cause I'm missing more than just your body."
The song seemingly worked. Bieber and Gomez briefly reunited for about 5 months starting in November 2017, but that didn't last either.
9. Miley Cyrus' "Slide Away"
This song caused Smilers around the world to mourn the loss of her relationship with Liam Hemsworth, and the nearly 10 years the couple spent together before their August 2019 divorce after only 8 months of marriage. While fans knew the song was largely inspired by Cyrus' divorce, the mystery was, how much was based on real life, and how much was fiction?
Headlines about the track speculated the theme of drug abuse related directly to Hemsworth: "I want my house in the hills/ Don't want the whiskey and pills." No reps would ever comment on the situation, but Cyrus did note during her Plastic Hearts rollout that she had been focusing on sobriety during the present moment.
8. Olivia Rodrigo's "Drivers License"
One of the most popular songs on this list by far is Olivia Rodrigo's 2021 track "Drivers License," which sparked mountains of rumors due to the specificity of the lyrics talking about her ex and his new flame: "And you're probably with that blonde girl/ Who always made me doubt/ She's so much older than me/ She's everything I'm insecure about."
Fans suspected Rodrigo's High School Musical: The Musical: The Series co-star, Joshua Bassett, and his rumored new girlfriend, fellow Disney Channel alum Sabrina Carpenter, were the inspiration behind the song's lyrics, but nobody involved has confirmed the drama outside of mysterious song lyrics cloaked in metaphors.
7. Nicki Minaj's "No Frauds"
In response to Remy Ma's infamous diss track, "Shether," Nicki released the clapback of the century in 2017. "No Frauds" was a direct attack on Remy, with scathing lyrics and mysterious accusations about her character. "I never signed a 360, b*tch you wild dumb/ That's why Jay ain't clear his verse for your album," she rapped in the first verse, responding to Remy's claim that Nicki was under a comprehensive deal with her label that many in the music industry believe to be unethical. Although it's a widely accepted fact that Nicki wrote the song about Remy, some of the finer details, including about a verse "Jay" didn't clear, shed light on some mysterious industry tea.
6. Beyonce's "Sorry"
"Better call Becky with the good hair" was one of the most talked-about lines frome Bey's 2016 album Lemonade, and sparked an internet war over JAY-Z's rumored infidelity with "Becky." Many fans believed the singer was talking about Rachel Roy, a former associate and friend of Solange Knowles rumored to be connected to the infamous elevator fight with JAY-Z.
Roy denied ever being the aim of Bey's "Becky" line in a statement released soon after the release of Lemonade, stating, "There is no validity to the idea that the song references me personally."
5. Ariana Grande's "Thank U, Next"
"Thank U, Next," was one of the top songs of 2018, with its music video practically causing a stan meltdown on Twitter. The first verse, however, had people buzzing about Grande's called-off engagement to Saturday Night Live actor Pete Davidson, and continued the fallout from their split into the following year: "Even almost got married/ And for Pete, I'm so thankful."
The aim of the line was pretty clear, but the song did nothing to shed light on what, exactly, let to the end of their relationship, which remains shrouded in mystery, especially considering not many people are thankful for their exes. People still wonder what happened to the duo that took over the tabloids, but all they're left with is a couple lines from Ariana about moving on.
4. Drake's "Fireworks"
The Drake and Rihanna relationship timeline is a murky one, with no definitive proof for stans to look to for confirmation of their once-close friendship. On the June 2010 track "Fireworks," Drake rapped about a lover of his caught between the crosshairs of gossip blogs and drama despite an amazing date at a place called Lucky Strike. The duo reportedly spent a night at the NYC date spot together in 2009, but any future closeness fizzled out. At the time, however, this mysterious line was the closest hint shippers had at the possibility of a romance between the two.
3. Selena Gomez's "Lose You To Love Me"
After years of staying relatively silent about her relationship with Justin Bieber, Selena Gomez dropped a revealing song of her own about the former couple's downfall in 2020 ahead of her album Rare. "Lose You To Love Me" was Selena's No. 1 ballad comeback to the music industry. Fans weren't exactly sure who it was about until the scathing line, "In two months, you replaced us/ Like it was easy/ Made me think I deserved it." Fans pointed out it was probably about Justin and Hailey, who had eloped in New York City in September 2018, just a few short months after her and Bieber's final breakup.
2. Kanye West's "Famous"
As if the video for Kanye West's "Famous" wasn't shocking enough, his lyrics about his longtime feud with Taylor Swift stoked the flames of a years-old beef in the press. "I made that b*tch famous" was the most talked about line from the singer's 2016 The Life of Pablo album, and caused his now-ex wife Kim Kardashian to chime in and attempt to show evidence of Taylor's approval of the jab. The real mystery surrounding the lyrics of this song has to do with whether or not Taylor gave approval for the line about her, which is hotly debated to this day. At this point, the only people who know the truth are Kanye and Taylor.
1. Taylor Swift's "Bad Blood"
"Bad Blood" was the match that ignited Swift's longtime beef with Katy Perry in 2014, causing endless rumors and stories to spread across social media. While the lyrics didn't specifically name Katy, fans were sure it was about her because of an interview Tayloro gave describing the source material for the song.
Taylor and her "squad" of A-list models and actresses that appeared in her "Bad Blood" music video went viral across social media platforms, acting as a direct rebuttal to her pop star frenemy with brutal lyrics. "Did you think we'd be fine?/ Still got scars on my back from your knife/ So don't think it's in the past/ These kind of wounds they last and they last," Taylor sang in one of the song's most honest verses.
It wasn't until May 2017 when Perry finally confirmed "Bad Blood" was about her on James Corden's "Carpool Karaoke."