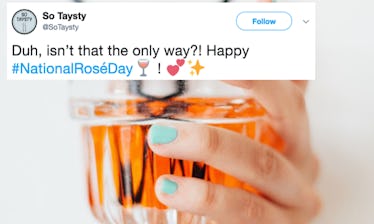 These Memes About National Rosé Day Are Hilarious & I'll Cheers To Them
Happy National Rosé Day, my loves! I hope you're rightfully celebrating with a glass or two of your favorite pink wine. However, if it's too early to pop a bottle, take a scroll through Twitter to see how fellow wine lovers are reacting to holiday. Based off these memes about National Rosé Day, everyone is pumped about the date. Some memes are relatable, while others are straight up hilarious. I'll raise my glass to all of them, though.
If you thought today was just a normal Saturday, allow me to fill you in. Every year, the second Saturday in June is titled National Rosé Day — and this year, it falls on June 9 (alas, the reason why I'm sharing all of these rosé memes with you right now). Whether you're lounging in bed or sipping on summer water during brunch, take a moment and check out what the Twitterverse is saying about the holiday. You'll probably relate to them in one way or another.
If you're not into rosé, you should have a peek anyway. Wine lovers across the national are proclaiming their love for the pink drink, and seeing their memes about it will make you excited (even if you don't like the taste of it).
See what I mean? People are really passionate about their rosé. If you feel the same way, maybe you should hop on board the Twitter train and share a meme proclaiming your love for it. Or, you can post a photo of your rosé onto Instagram so all of your followers know how you're celebrating. If you choose the latter, make sure you check out these National Rosé Day Instagram captions. If you write something witty, and say, "I'm on cloud wine," or "Wine flies when you're having fun," you're sure to rake in all of the IG likes.
If posting on Instagram isn't really your thing, you can go do something different and exclaim your love for the sweet summer bev' on Facebook. Facebook recently announced a new rosé filter for its Messenger app, and it's super cute. Before you try and use it, make sure your Messenger app is updated. Once its updated, open one of your message threads. When you're there, click on the camera button and give the app access to use your camera. After that, take a photo of yourself (holding a glass of rosé, of course), and start swiping through the filters. You'll find the rosé filter in no time, and you can send the picture to your friends and family.
By now, you're probably social media'd out. Between looking through Rosé Day memes, taking the perfect Instagram picture of your wine, brainstorming captions, and using Facebook's new filter, you're probably getting thirsty. If that's the case, it might be the perfect time to pour yourself a glass (if you're over 21 years old, of course). Drink responsibly, though — just because it's National Rosé Day doesn't mean you have to get wild.
If you're sipping the pink stuff from a glass, but are inspired to try something new in honor of the holiday, I'd suggest exploring different types of canned rosé. Believe it or not, canned rosé is all the rage right now, and it'll make sipping on your favorite drink so much more convenient. Between Babe Rosé, Lila Bubbling Rosé, Underwood Rosé, and more, the options for canned rosé are endless. Again, if you choose to crack open a can or two, drink responsibly.
Based off the memes on Twitter, it's clear that hundreds of people share an affinity for pink wine. If you feel inclined to do so, share a rosé meme of your own.