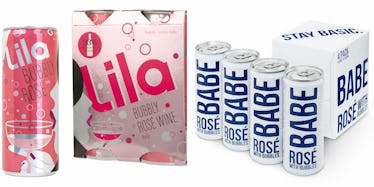 These Canned Rosés Are So Convenient For National Rosé Day Festivities
When it seems like there is a new national "holiday" every single day, it can be easy to tune them out. Well, if you're a fan of pink wine, then you'll want to pay close attention to the calendar on Saturday, June 9, 2018. That's right, National Rosé Day lands on June 9 this year, and there are plenty of fun ways to celebrate it. By now, you probably have a go-to bottle of rosé, but why not try thinking beyond the bottle this summer? Here are seven canned rosé wines that are perfect for sipping on National Rosé Day (if you're 21 years or older).
Canned wine might not be the first drink that pops into your mind when you think about having a glass of rosé with your besties, but it is totally having a moment right now. Not only is canned wine the perfect excuse to break out all the fun koozies that are usually reserved for the beer-filled days of summer, but canned wine in 2018 is just as delicious as its bottled counterpart. Since these canned wines are ready to drink as packaged, you won't have to worry about forgetting the wine opener or wine glasses when you bring a case of canned rosé to your BFF's National Rosé Day shindig.