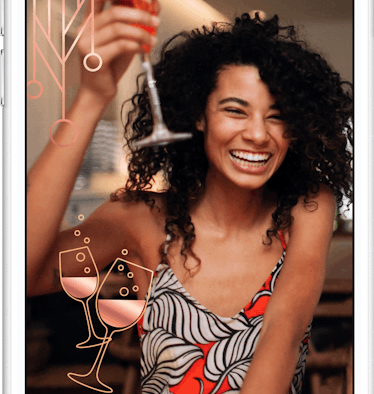 Facebook Released A Rosé Filter On Messenger For National Rosé Day & It's So Cute
As a diehard pink wine enthusiast, I can think of so many fun ways to celebrate National Rosé Day. Going on wine tastings, hopping aboard wine cruises, engorging yourself on rosé-infused doughnuts, and decking yourself out in head-to-toe millennial pink are just a few. And since showing your friends how you're celebrating is absolutely vital, Facebook Messenger is releasing a gorgeous rosé-themed filter to match what's in your wine glass. Here's how to get Facebook Messenger's rosé filter to share with all your friends just in time for National Rosé Day.
Aside from having as much fun as possible, the most important thing about National Rosé Day is to share how you're celebrating with all of your Facebook friends. Come on, you know that it's true. I mean, were you even drinking rosé if you didn't post about it on social media? I don't actually know. But don't worry, because sharing your spirit is simple. According to a press release, in order to get started, open the camera in a Facebook Messenger thread. Then, snap your photo of choice, and raise your glass to all your friends via the inter-webs. Make sure you act quickly, though, because the filter is only available for a limited time. You won't want to miss out on your moment in pink.
Just take a gander at this National Rosé Day Facebook Messenger filter; it's simply exquisite. While it's fun and casual, it's also so sophisticated that you'll end up looking like a millennial pink daydream, some might say. If you really want to show off your Rosé Day spirit (and why wouldn't you?), this Facebook Messenger filter is the way to go. It's the aesthetic of my dreams, and the fact that I won't be able to have a wine-themed filter forever is kind of heart-breaking. But I guess I'll get over it in due time.
One thing you'll definitely want to document with this glorious filter on National Rosé Day is your free facial and glass of wine at Skin Laundry, because you'll seriously be living that #LuxuriousLifestyle. The wine, Dear Rosé, was created by none other than last season's Bachelor winner, Lauren Bushnell. The facial is a 15-minute Skin Laundry Laser & Light facial (it sounds a little scary, but it also looks like a dream come true). This deal is 100 percent worth taking advantage of, but most importantly, it's a mandatory addition to your Rosé Day photo collection... just do it for the 'gram (and for the Facebook). Get on that.
It's really too bad that this filter won't last until June 21, though, because JetBlue's Up, Up, and Rosé! Flight is rosé-themed, it's definitely something attendees will want to document and share. Passengers will receive a free glass of Famille Chavin Duc de France Rosé d'Oc 2016, as well as a cheese and crackers box, and it's kind of the dream come true. Having an adorable rosé filter to capture the essence of an in-flight pink wine tasting would be kind of unreal, but I guess we'll just have to do without it.
Correct me if I'm wrong, but I'm pretty sure that National Rosé Day is up there in the realm of important holidays, right next to Halloween, New Year's Day, and maybe even my birthday. That being said, taking pictures is so important, and sharing them with all your friends is vital. So why not use a festive National Rosé Day filter to show your spirit? It's pink, it's gorgeous, and it'll definitely put you in the mood to sip even more of that pink drink (in the most responsible manner imaginable). Cheers, wine-loving friends!