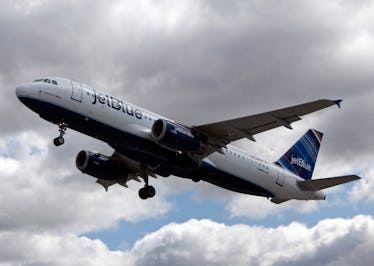 JetBlue Is Doing A Rosé Tasting In The Sky & It Sounds Like The Best Flight Ever
Allison Joyce/Getty Images News/Getty Images
Despite having a decent amount of air travel experience, I still get anxious on airplanes sometimes. I know, it's literally so embarrassing. It's not like I've ever had a traumatic in-flight experience or anything, but the second I feel a little bit of turbulence, I always try to grab the hand of the person next to me. Yes, I know, it's definitely not my smoothest move. But since JetBlue's "Up, Up, and Rosé!" flight is rosé-themed, I'm absolutely certain it would keep my mind at ease (and my hands preoccupied).
To kick off the first day of summer on June 21 (just a few short weeks after National Rosé Day on June 9), JetBlue will be offering the experience of a lifetime: an in-flight rosé wine tasting, which they've cleverly named, "Up, Up, and Rosé!" (Get it?) According to a press release, the flight (no. 2267) will depart out of Boston, Massachusetts' Logan Airport, and it'll fly about 2.5 hours South to Charleston, South Carolina. Along the way, JetBlue's in-house wine expert, Jon Bonné, will be leading an in-depth wine tasting as the plane coasts through the clouds. It sounds like a freaking movie, for crying out loud.
During the tasting, customers will get the chance to try a free glass of Famille Chavin Duc de France Rosé d'Oc 2016, which will be available to all all JetBlue customers throughout the month of July. Customers will also receive a free PickMeUp box, which is JetBlue's fruit and cheese platter that pairs with their rosé. The platter includes three types of Wisconsin cheeses (Green Onion, Smoked Gouda, and Sharp Cheddar), as well as dried cherries and crackers. Food and wine could not be more fine.
JetBlue and rosé actually happen to have quite a history. Seriously, they go all the way back to 2015. According to a press release, JetBlue was the first domestic U.S. flight to offer rosé, which is pretty awesome on their part. I'm not sure how or why it took this long to get rosé on in-flight wine lists, because your girl was craving it for years. But, I am happy it's finally made its way there — and hopefully it will continue to make its way onto more in-flight wine lists. My fingers are crossed.
If you happen to be more interested in traveling by boat alongside the pink drink (instead of by air), make sure to embark upon one of 90+ Cellars' Rosé On The Water booze cruises this summer. There's one in New York City, one in Boston, and finally, one in the windy city of Chicago. For only $85 or $90, passengers will be able to drink bottomless rosé, nibble on assorted apps, enjoy the scenery, and, most importantly, take in the surroundings of other pink-wearing folk (because that's 100 percent required to hop aboard). Whichever mode of transportation you choose, though, just make sure you soak up the whole experience in its entirety.
Don't get me wrong: A rosé wine tasting is always cool. But, a rosé wine tasting 30,000 feet in the sky sounds absolutely amazing. Between getting the chance to listen to JetBlue's sommelier, Jon Bonné, and sipping on that free glass of Famille Chavin Duc de France Rosé d'Oc 2016, this is definitely my ideal flight — and I know for a fact I'd be totally and utterly relaxed. If you'd rather travel by boat, though, no judgement. I just want to make sure that wine lovers are enjoying as much rosé as possible during this summer season, regardless of how they decide to do it. Safe travels!