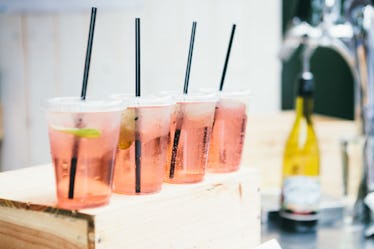 These Cruises Are Literally Made For Sipping Rosé On The Water & I'm So Down
Call me "basic," but very few things in life bring me more joy than booze cruises. The wind is blowing through your hair, the water is rushing behind you, and the best part is that you're sipping something delicious alongside all of your best friends. And even though booze cruises are undeniably fabulous, you probably didn't realize that rosé cruises now exist. As you'd expect, they're incomparable beyond belief. If that sounds at all up your alley, "Rosé On The Water" Cruises by 90+ Cellars are exactly what you need to make this summer magical.
This will be 90+ Cellars' sixth year hosting Rosé On The Water cruises, according to their website — and honestly, I don't know how I've been missing out on these for over half a decade. They're available in three different cities, including Chicago, Boston, and New York City — and since each Rosé on the Water cruise sets sail on different dates, you could hypothetically go on all three of them, if you really wanted to. In any case, be prepared, New York City, because ours falls on July 12, and I'm going to be living my very best life. It seriously could not come any sooner.
Per the website, one non-refundable $85 or $90 ticket will get you bottomless glasses of rosé from 90+ Cellars' greatest hits, including: Lot 33 Rosé, Reserve Provence Rosé, Sparkling Rosé, and Lila canned Rosé. You'll also be encouraged to drink water, because #hydration. There will even be an assortment of small bites to nibble on, and you'll be surrounded by a crew full of fellow wine-lovers dressed in pink (yes, wearing pink is 100 percent required). Also, these cruises depart rain or shine, because the dedication to rosé is too real. If I'm being completely honest, this sounds like a dream come true.
Oh, and this is probably a given, but all guests are required to show that they're at least 21 years old. So if you don't have a government-issued ID with you, you're SOL. Sorry, babes.
Luckily, Rosé on the Water cruises are here just in time for National Rosé Day, which falls on June 9. But, if you're prone to seasickness and you're not ready to hop aboard the booze cruise, you still have the chance to celebrate the greatest holiday of the year all week long. Online wine club, Winc, collaborated their signature Summer Water Rosé with several tasty New York City destinations to create a variety of delicious rosé-flavored treats... and seriously, they're to die for. DŌ, for example, is selling rosé-flavored cookie dough, Tipsy Scoop is serving up some pink wine sorbet, People's Pops is selling rosé-flavored popsicles, and Postmates is doling out discounted Summer Water droplets. Remember to get these treats before the end of the week, though, because they'll only be available through June 9.
Once you've tasted all of the rosé-flavored treats, you should probably go ahead and take advantage of the fact that you can also get a free facial and a glass of wine at Skin Laundry on June 9... and seriously, why wouldn't you? The wine, called Dear Rosé wine, was created by last season's Bachelor winner, Lauren Bushnell — and the facial is one of Skin Laundry's 15-minute Laser & Light facials. It sounds kind of great, if you ask me. If you haven't already, remember to clear your schedule for June 9.
Booze cruises are great, but let's face it: Anything that includes bottomless rosé (and also food) is pretty much the greatest thing ever. So if you're New York-based, be prepared to see me having the time of my life on that boat. I may honestly just leave part of my soul there.