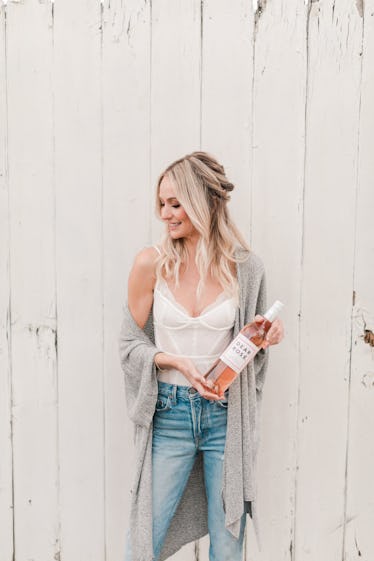 You Can Score A Free Laser Facial & Wine On National Rosé Day & This Isn't A Drill
Courtesy of Dear Rosé
With all of the trivial holidays around it's easy to forget the ones that really matter. July 4 is coming up, Thanksgiving is always a favorite of mine, but we all know the really important one: National Rose Day 2018. This year, celebrate the boozy holiday with a free facial (valid for first time customers only) and glass of wine (free for all who get a facial) at Skin Laundry, a facial-only spa with locations across the country.
I've been to Skin Laundry and their game is a quick 15-minute facial to cleanse your skin — that's all they've got and that's all you need. Just as you wash your clothes on the reg, the idea is that you should get these clarifying face treatments every once in a while as a way to launder your skin. What could be better than that? Enjoying a nice glass of chilled rosé wine while you get it, you might suggest? You'd be right! June 9 is National Rose Day (it should already be on your calendar) and Skin Laundry is celebrating not only by offering their usually $65 facials for free but also by letting you indulge in a complimentary glass of Dear Rose wine. I think I just figured out what heaven looks like.
The Wine
Dear Rose wine was created by Lauren Bushnell of The Bachelor fame. Bushnell used her post-Bachelor platform to fill a serious void in the world: More wine. There's no such thing as too much rosé (IMHO) and Bushnell seems to agree. The former reality TV-star founded the brand with four of her friends when they saw a "lack of consistency" in the wine they were drinking. They "set out on a mission to find a perfectly crisp and refreshing rosé" and it looks like they've accomplished just that.
The current vintage of Bushnell's pink wine is from 2016; it's made in small batches in the south of France and is described as "dry, crisp, [and] refreshing." If you can't wait until June 9 to try the wine, first of all, I don't blame you because it sounds delicious, and second of all, you don't have to. Dear Rosé is available for purchase online and is quite reasonably priced at $20 per bottle. No price is better than free.99, though, amiright?
I think I just got FOMO from a gif.
The Facial
Back to those free facials. Skin Laundry's Laser & Light facial takes only 15 minutes and will leave you with a remarkable glow. Even better, you'll look fresh AF immediately afterwards. None of that post-facial redness that usually requires a hat and large sunglasses to cover up. You can walk out the Skin Laundry doors and head right on over to happy hour with your squad. Or, one June 9, have your happy hour during your facial.
The Fine Print
The Laser & Light facial is actually always free for first-timers (umm, wow!) but the glass of wine is exclusive to June 9 treatments. You can only get this lusty deal if you've never been before, but whether you're paying for your facial or not, there will be free glasses of rosé for all.
A glass of wine (in New York City, at least) can cost upwards of $10 and on this glorious day you can get a glass of wine and a normally $65 facial for $0, that's jaw-dropping. Need I say more?
I'll say a little bit more because only a select number of Skin Laundry locations are offering up this special. You can find this deal in these lucky locales: Newport Beach, West Hollywood, Santa Monica, Scottsdale, Midtown East (NYC) ,and Flatiron (NYC). Book your June 9 facial now and you'll automatically be signed up for a rosé-sipping good time!