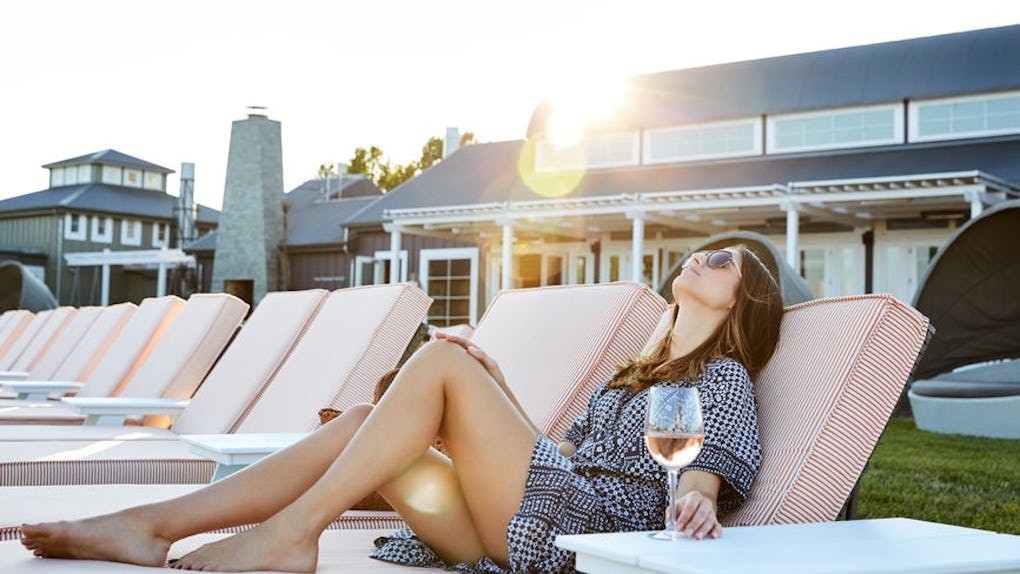 Trinette Reed/Stocksy
40 Rosé Captions For Instagram, When You're In That Millennial Pink State Of Mind
After a long day spent in the sunshine, nothing sounds better than unwinding with a glass or two of rosé. A night in with your lady crew sharing a bottle of the good stuff is the best kind of plan. If your besties love rosé just as much as you do, you know exactly what bottle needs to be uncorked. Not only is rosé super refreshing in the summer, but you can't deny how Instagram-worthy that beautiful hue of millennial pink is. Snapping a pic of your girls holding up their glasses is essential. Then, post it up with some rosé captions for Instagram.
I'm no doctor, but I truly believe a glass of wine is good for you, so you can catch me sippin' all summer long. Even if you're just indulging in some much-needed "me time," snap a selfie with your wine glass. Or, get a pic of you and bae on a romantic date night. You'll look so adorable while you're toasting your pink drinks.
Rosé is a beautiful color that will bring some vibrance to your 'Gram. If you're a fan of the pinks, snap a pic of your drink with a summer sunset as your background. The photo possibilities are seriously endless, and no matter what shot you capture, when it comes time to post, use any of these 40 captions about rosé. Then, get right back to drinking, because your wine awaits.
1. "Wine flies when you're having fun." — Unknown
2. "Rosé all day." — Unknown
3. "Where there's a will, there's a rosé." — Unknown
4. "Stop and smell the rosé." — Unknown
5. "Rosé the day away." — Unknown
6. "Wine that is pink in color makes me happy." — Unknown
7. "You had me at rosé." — Unknown
8. "Wine pairs nicely with good friends." — Unknown
9. "Slay then rosé." — Unknown
10. "I'm on cloud wine." — Unknown
11. "Pretty in pink." — Unknown
12. "Yes way, rosé." — Unknown
13. "Wine not?" - Unknown
14. "When I sip. You sip. We sip." — Unknown
15. "Tonight's forecast: 99 percent chance of wine." — Unknown
16. "The world looks better through rosé colored glasses." — Unknown
17. "You can't buy happiness, but you can buy rosé, and that's close enough." — Unknown
18. "Rosé every day." — Unknown
19. "Will you accept this rosé?" — Unknown
20. "Sip, sip, hooray." — Unknown
21. "Love the wine you're with." — Unknown
22. "Rosé is bae." — Unknown
23. "I don't understand what a wine stopper is for." — Unknown
24. "I just rescued some wine. It was trapped in a bottle." — Unknown
25. "Rosé to the occasion." — Unknown
26. "Every box of raisins is a tragic tale of grapes that could have been wine." — Unknown
27. "Not all girls are made of sugar and spice and everything nice. Some girls are made of sarcasm, wine, and everything fine." — Unknown
28. "Home is where the wine is." — Unknown
29. "Sip happens." — Unknown
30. "Pink is my signature color." — Unknown
31. "La vie en rosé." — Unknown
32. "Do you have this in pink?" — Unknown
33. "I'll take rosé over roses today, thank you." — Unknown
34. "I was told you'd have rosé." — Unknown
35. "In wine, there's truth." — Pliny the Elder
36. "Anything is possible with sparkle and a little pink." — Unknown
37. "Coffee now. Wine later." — Unknown
38. "Pink isn't just a color. It's an attitude." — Miley Cyrus
39. "If it's pink or sparkly, yes, I want it." — Unknown
40. "On Wednesdays, we wear pink." — Mean Girls
This post was originally published on July 1, 2018. It was updated on Aug. 7, 2019 by Elite Daily Staff.