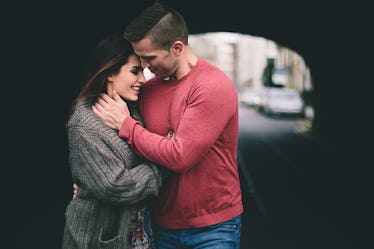 These "Kissing Bridges" Have The Most Romantic Meaning For Your Photo Shoot With Bae
If you're currently in a summer romance, then you've probably planned some beach days with bae. You've already packed the s'mores supplies, and thought about how sweet roasting marshmallows will be with your significant other by your side. Yes, you have a lot of adventures coming your way, from camping trips to snuggling up under a blanket and doing some stargazing. But, you've likely never considered these "kissing bridges" in Ohio that are perfect for a little photo shoot, no matter what the season may be. Just pucker up, OK?
It all started with once upon a time — or at least, that's what I'm lead to believe, considering these covered bridges look like they came straight out of a fairy tale. I mean, can't you imagine your favorite romantic comedies having a scene located in a place like this? If you're a daydreamer like me, you can probably already picture yourself strolling around one of these charming spots located in Fairfield County, Ohio, and capturing a few pics for social media along the way.
According to Visit Fairfield County, these structures gained popularity back in the 1800s and early 1900s to shield the bridges underneath them from all of the Earth's elements. There are a few still standing in places such as Yosemite National Park, but this rural county is home to many of what's left. People believed sharing a kiss with bae under a covered bridge is supposed to be good luck. So, I'd say book a trip ASAP.