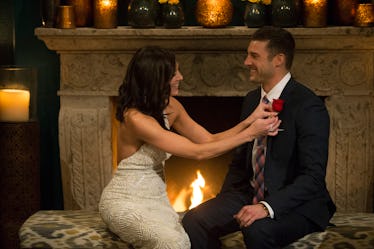 These Clues Garrett Wins 'The Bachelorette' Will Have You Totally Convinced
ABC
At this point, there isn't much convincing us that Bachelorette Season 14 frontrunner Garrett Yrigoyen is a fluke in the quest for Becca Kufrin's heart. On this week of The Bachelorette, Garrett had his first one-on-one date with Becca, and although their time together included an uncomfortable conversation about Garrett's — surprise! — divorce, it's clear that Becca is seriously crushing on him. We have a long way to go until we know who Becca's final contenders are, but these clues Garrett wins The Bachelorette have me totally expecting to see him down on one knee at the end of this season.
The 29-year-old medical sales rep has been in the spotlight since the season kicked off, partially because of his controversial social media activity. Although Garrett soon apologized for liking offensive content on Instagram, he was already in a top spot on fans' Bachelorette brackets because of his performance in Season 14's first episode. Making a grand entrance in a minivan equipped with car seats and soccer balls, Garrett easily scored Becca's first impression role, which is a huge hint that he could sweep away the competition.
As Becca's initiation chat with the three past Bachelorettes revealed, former leading ladies Kaitlyn Bristowe, JoJo Fletcher, and Rachel Lindsay all gave their eventual fiancés the first impression rose. It's a pretty admirable streak that also proves how strong a woman's intuition can be, and Becca could easily add to that pattern. Of course, you could argue that because she's keeping around crazy model Jordan and a slightly sketchy Colton, her judgment may not be the finest, but Becca's instincts about Garrett have never faltered.
In addition to the minivan entrance, he caught her attention on Night One by fly fishing in the mansion's pool. This reminded the Minnesotan Becca of her late father, which is a totally normal thing to feel drawn toward in a romantic mate. While Garrett is originally from California and now a resident of Reno, it seems that he has a very Midwestern mentality about life, which is obviously very similar to Becca's perspectives.
Body language expert Craig Baxter even previously told Elite Daily that the physical connection between Becca and Garrett is strong. Baxter particularly focused on the nature of the couple's first kiss, saying:
[Becca] is tenderly cupping his neck with her hand when they kiss. This action sends a strong silent message of genuine affection. [The way Garrett wrapped his arms around Becca's waist is] displayed to keep Becca safe and to provide her with reassurance that his affection towards her is also real and heartfelt.
Their strong first impressions of each other weren't one-night wonders. On their one-on-one date in Park City, Utah, Garrett continued to remind Becca of her dad, proving he was a true outdoorsman by excelling in their bobsledding activity. Things got a little awkward when Garrett revealed he was briefly married before, but Becca took the news in stride, suggesting that she isn't going to run away at the first sign of conflict in a relationship with Garrett.
It was clear that the two just lit up in the other's presence, and their intimate dance at the end of the date topped off what seemed like a positive turning point in their relationship. After she gave him the rose, Becca even admitted to the cameras, "With Garrett, every time I think about him, I get butterflies. He just makes me feel like I can be me and be my goofy self, and he embraces that because he's kind of the same way."
Sounds like the early throes of love to me.
Then there's the simple vote of confidence that is the audience's inkling about Garrett. While plenty of fans are still understandably hating on him for his social media snafu, others are fairly convinced that Garrett is Becca's fiancé.
Although other men like Blake and Wills are definitely still in the running, the case for Garrett making it to the end is a strong one. We'll have to wait and see if Becca's feelings for Garrett strengthen even more as the season continues.
The Bachelorette returns on Monday, June 25, at 8 p.m. ET on ABC.