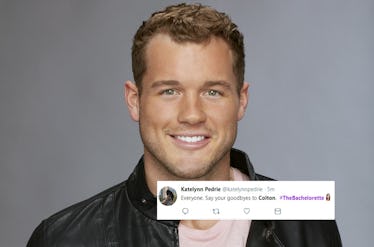 Colton Revealed A Major Secret On 'The Bachelorette' & Fans Are Just As Confused As Becca
ABC
Before Season 14 of The Bachelorette even premiered, fans had already linked contestant Colton Underwood to his ex-girlfriend and Olympic gymnast Aly Raisman. Despite that the relationship played out fairly publicly, Colton and Aly seemed to part ways amicably, making any chance of Colton mentioning a "previous public relationship" on Becca Kufrin's season slim. However, the former pro football player spilled in Episode 2 that he was in a relationship with Bachelor Season 22 contestant Tia Booth before Bachelorette filming. Um, say what? These tweets about Colton prove that Bachelor Nation is just as confused and startled about this bombshell as I am.
Thanks to the long and juicy Season 14 teaser, we already knew that Colton was bound to provide some of the dramatics this year. In the promo footage, he claims to be a virgin, even coming clean to Becca about it, but male model Jordan isn't too convinced about the confession's validity. But then again, it's clear that Jordan's purpose on the show is to provide ridiculous commentary, so I'm willing to go along with Colton's truth unless the show proves otherwise later this season.
Before the reveal of his connection to Tia, other fans held Colton in high favor during the season premiere, praising him on Twitter for his dog, charity endeavors, and, well, his face. I get it, ladies.
This week, Colton spilled about his past with Tia at a group date's cocktail party, describing their time as a "weekend together." Becca reacted a little numbly, admitting that she didn't know how she felt about it initially. Obviously, it's a tricky situation that puts Becca in a tough spot, and she revealed in an on-camera interview that she was frustrated about it. Their exchange ended quite vaguely, hinting that we'll hear more about this in the future. They picked up on the conversation right before the rose ceremony, with Colton saying that he understood Becca's concerns. Becca was still emotionally torn, but gave him a rose in the end.
While I'm totally cheering on Tia for rebounding from Arie Luyendyk with Colton, the whole situation is a wee too fishy for me to believe that the relationship and then Colton's casting all happened naturally. Bachelor Nation is a smart crop of people, and viewers on Twitter agree about me about the scenario's craziness.
For some, the news has spoiled their views of Colton.
On the other hand, other viewers are applauding him for how he handled the situation and fessed up to Becca about it. Plus, his description of the relationship with Tia hinted that it was pretty low-key between them, suggesting that there weren't serious feelings for each other at the time.
Colton's early popularity led to his name being tossed around as a Bachelor possibility, but fans' verdicts upon his Tia confession seem too mixed to tell if that theory still holds true. No matter how likable he is, I don't think we can handle another leading man with so many love connections scattered across the franchise a la Arie and Nick Viall. Is it still too early in the season to nail down a definite Bachelor pick?
Meanwhile, Tia has yet to respond to her unexpected role in this season, but her Arkansas BFF and another Bachelor alum, Raven Gates, has teased about her friend's connection to Colton on Twitter.
I can only imagine that a Bachelor in Paradise stint is in Tia's near future, so I'm curious about how this little mini-scandal will play out on the beach in Mexico, particularly if Colton turns up there. Hopefully Wells Adams returns as bartender to reenact the drama with puppies again.
We'll have to keep watching The Bachelorette to see if Colton's confession further affects his relationship with Becca.