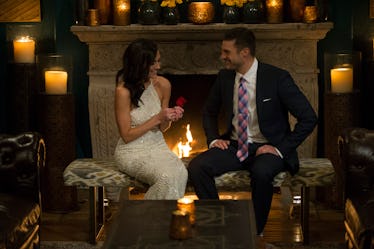 Becca & Garret's Date On 'The Bachelorette' Has Fans Convinced She's Smitten
ABC/Paul Hebert
Have you died from an overdose of cuteness yet? On Monday night's episode of The Bachelorette, first impression-winner Garrett finally got some one-on-one time with Becca, and the two seriously hit it off. Becca and Garrett's date on The Bachelorette showcased their out of this world chemistry, and it was clear why the 29-year-old medical sales rep is one of this season's front-runners. Get ready, Bachelor Nation, because it's looking more and more like the first impression win streak is alive and well.
For the first time this season, The Bachelorette shifted the action out of the mansion with a trip to Park City, Utah. Becca picked Garrett for the first one-on-one date, and the two went shopping before going bobsledding with the 2006 Olympic bobsled silver medalists Valerie Fleming and Shauna Rohbock — just casual Bachelorette things.
Unlike Becca's music date with Chris in Week 3 (which made me feel super weird and uncomfortable), the date with Garrett was fun and lighthearted, and it gave both Becca and Garrett a chance to show off their sillier sides. Despite being from a desert state (Nevada), Garrett has some serious bobsledding abilities, so if The Bachelorette doesn't work out, maybe he has a future in winter sports?
Later in the date, Garrett dropped a bombshell when he revealed that he'd been married for a short time before coming on The Bachelorette. Garrett promised that he was completely over his ex, and he said that he wants the next woman he says "I love you" to be the last. While Becca was shocked at first, she took it in stride, and she thanked Garrett for being so transparent about his past. See, guys? Honesty really is the best policy.
After Garrett's confession, things really heated up that night when the two went to an intimate Granger Smith concert. As the country singer serenaded the couple, they danced and cuddled — and oh yeah, made out literally the entire time. Seriously, I'm not sure how these two were able to breath with their faces stuck together for the entire concert. Who doesn't love a good dance floor make out?
All jokes aside, I'm ecstatic for these two. Becca seemed genuinely happy on her date with Garrett, and he has infinitely more personality than Arie, so that already makes him a way better option for the hilarious Bachelorette. Judging by the way they were looking at each other all night (when they weren't making out) I wouldn't be surprised if Garrett makes it to the finale and ends up getting down on one knee.
At the end of the date, Becca surprised no one by giving Garrett the rose. "With Garrett, every time I think about him, I get butterflies," Becca said earlier in the episode. "He just makes me feel like I can be me and be my goofy self, and he embraces that because he's kind of the same way." Awww. How can you not stan this couple?
As soon as Bachelor Nation got a glimpse of Garrett and Becca's date, many fans took to Twitter to express their excitement — and their hope that Garrett will end up being Becca's mystery fiancé.
While fans won't know for weeks if Garrett ends up winning The Bachelorette, he certainly has a lot going for him. The past three Bachelorettes — Kaitlyn Bristowe, JoJo Fletcher, and Rachel Lindsay — ended up engaged to their first impression winners, so the odds are good that Garrett's initial connection with Becca will last. During Week 1, the three women appeared to give Becca a lesson in Bachelorette-ing, and JoJo even predicted that Becca would end up with her first impression winner. "Whoever she kisses tonight, or gives the first impression rose — keep an eye on them," she said.
In addition to winning the first impression rose, Garrett's personality and interests seem to be pretty aligned with Becca's. The 29-year-old is an avid outdoorsman, and in Week 1, he "fished" in the mansion pool with Becca, an activity that reminded her of her late father. From their very first moment together (when he showed up in a mini-van to prove how dad-ready he is) Becca was convinced that Garrett's easy-going attitude, love for fishing and hunting, and great sense of humor would help him fit perfectly into her life, and it seems like their date in Week 4 has only confirmed those initial feelings.
Is it too late to change my Bachelorette bracket?