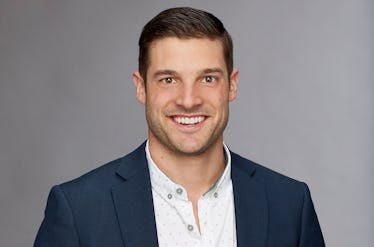 This 'Bachelorette' Contestant May Have The Most In Common With Becca
ABC
Thanks to ABC debuting disappointingly brief cast bios for this season of The Bachelorette, it feels that we're going into Becca Kufrin's journey of love with way less knowledge than we usually have. By now, we'd typically know about the guys' worst first dates or their gross habits, but this year, we only know the bare minimum about the Bachelorette men. Luckily, Episode 1 focused on a standout guy who may've already scored a permanent finalist spot on my Bachelorette bracket. Who is Garrett on The Bachelorette? For now, he's proving that we don't need detailed cast surveys to pick an early favorite out of the men.
Snagging Becca's first impression rose, 29-year-old Garrett is a California native currently living in Reno, Nevada. The medical sales rep caught Becca's eye from the moment he arrived at the mansion in a minivan. The family-friendly car was equipped with a car seat, soccer balls, and a diaper bag, emphasizing Garrett's desire to become a great dad and husband someday. This is basically the modern-day equivalent of Noah building a house for Allie in The Notebook, and I'll fight anyone who disagrees.
The gesture completely won over Becca, and Garrett proceeded to outdo himself during their one-on-one time at the cocktail party. He fished in the mansion pool with Becca, reminding her of hunting and fly fishing with her now deceased dad. The nostalgic moment convinced Becca that Garrett would fit in well with her everyday life in Minnesota, and the fact that he helped her feel so comfortable led to Becca offering him the first impression rose.
While there are plenty of Midwestern guys in Becca's group of men (and even a fellow Minnesotan, Jake), Garrett clearly seems to be the man that she has the most in common with so far. Becca wasn't exactly portrayed as a goofball on Arie Luyendyk Jr.'s Bachelor season, but her limo exit, aka the first utterance of "Let's do the damn thing!," proved that she was always willing to laugh.
That definitely fits well with the class clown vibes that Garrett's intro package gave off — who else is under 30 years old and does an uncanny Chris Farley impression? I don't know if the men wrote their own bios, but I appreciate whoever coined the following in Garrett's bio:
He's excited to find love with the Bachelorette…down by the river!
I'm always down to watch SNL with you, Garrett. Just saying.
Describing himself as a true outdoorsman in an ABC promo video, Garrett also says that his favorite movie is Dumb and Dumber. If you throw back to Becca's own cast bio, her top movie picks aren't exactly raucous comedies, but she loves Pitch Perfect. These two can totally bond over cult movie favorites, right?
Physically, Garrett also matches at least one man Becca has dated in the past. Arie seems to have been an exception for her, but as we all saw when her ex Ross turned up in Peru last season, she gravitated toward big, beefy guys in the past. Whether or not dating the same physical type is a good sign depends on the person, but Garrett's minivan move has definitely made him a serious contender.
If the first rose pattern of the three past Bachelorette seasons is anything to go by, Garrett's likelihood of becoming Becca's final pick is pretty high. Kaitlyn Bristowe, JoJo Fletcher, and Rachel Lindsay all gave their now-fiancés the first impression rose, so Becca could have continued that trend in her selection of Garrett. We'll have to watch the rest of the season to see if this is the case.
The Bachelorette returns on Monday, June 4, at 8 p.m. ET on ABC.