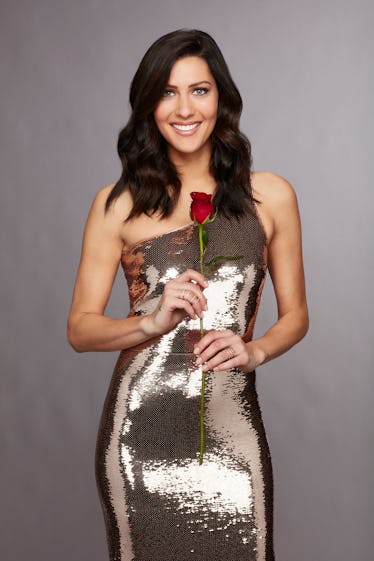 We Officially Know Whether Or Not Becca Got Engaged On 'The Bachelorette' & I'm Crying
ABC/Craig Sjodin
The Bachelorette is less than a week away from its premiere, Bachelor Nation. Are you on the edge of your sofa yet? After everything Becca Kufrin went through on Arie's season of The Bachelor (I still have nightmares featuring the haunting phrase "Happy Couple's Weekend"), America is wondering if the fan favorite winner-turned-Arie-ex found love during her stint as franchise leading lady. Does Becca get engaged on The Bachelorette? According to the star herself, she said yes! Or, he did. The world will find out how it all went down as Season 14 soon unfolds.
"I am engaged!" Becca revealed to People magazine. "It was the happiest moment of my life. And it feels so good to say it. I still pinch myself, like, did that all just happen? It's been a whirlwind."
As viewers of the Bachelor franchise know, most romances on the reality show might be described as "whirlwind." Becca's installment began taping in March, so that gives you an idea of her journey's timeframe. But congrats are surely in order — you deserve it, Becca. The world is definitely rooting for this Bachelorette and can't wait to meet her suitors next week, especially now that it's clear one of them is currently a fiance.
Sure — Becca was engaged to Arie less than six months ago, but things move at a Bachelor-ized pace when it comes to proposals and relationships in this universe. Becca was ready to the "do the damn thing" and move on from Arie after that public breakup disaster — can you blame her? It seemed like the role was a next natural step for her.
"Right up until the final day with Becca, that was something that always stood out in the back of her mind, was, 'I don't want to be hurt like that,' but conversely, she didn't want to hurt anybody like that," Chris Harrison recently revealed to Good Morning America about how Becca's experience played into her Bachelorette approach. "She was extremely careful — maybe too careful — not to give too much up of herself. She was very reluctant to let anybody know how she was feeling."
And even though Becca suffered heartbreak at the center of a very sticky situation with Arie and his now-wife-to-be Lauren, perhaps she understands the delicate process differently now that she's lived it from another angle.
"I watched all of last season back. I think that being in a relationship, there is a lot that you miss. When [Arie] is going on dates with other women, it helps to see his journey with all the other girls," Kufrin explained to Us Weekly. "Being on this side now, I can empathize a bit more. I can see what it is to try to sift through each person and each relationship to find the best one. At the end of the day, he had to follow his heart. I wanted to do the same thing for me."
So, who does Becca end up with? It's hard to speculate at this point considering ABC just released the contestant bios last week.
Executive producer Mike Fleiss previously tweeted that the group is the "best bunch of guys" they've even had, so that's promising. Among Becca's roster of potential suitors are two football players, a banjoist, a "social media participant," and a man who has over 250 bottles of cologne. At least the casting directors continue to keep things interesting.
I look forward to meeting Becca's possible future hubby when Season 14 of The Bachelorette premieres next Monday, May 28 on ABC. Let the reality TV fairytale commence.